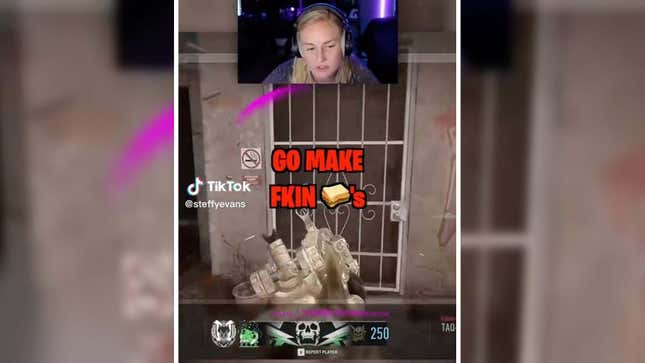 It's 2023, and FPS gaming hasn't really improved for anyone who sounds like a woman over voice chat. No matter how skilled they are, it seems inevitable that some fuckwad is going to tell the player to make a sandwich. One female Call of Duty streamer decided to respond to shitty opponents by stepping away from her game to make an actual sandwich.

We Taste-Tested Cold Stone Creamery's Special Nintendo Flavors
Twitch streamer Stephanie Evans keeps beating men in CoD, but that doesn't earn her any respect with the chuds who keep telling her to get in the kitchen—a misogynistic insult that seems ubiquitous to online gaming. Instead of letting it slide off her back, she would sometimes get up from her game, go to her kitchen, and make a packed lunch. Kotaku asked Evans over email if the sandwich meta would cost her any wins. She said that her antics cost her "a round or two," but that it only further motivated her to win. Most comments came after she had already won.
"I tried to speed run making sandwiches, which took me a minute and [a half] to about two minutes. I made a full turkey [or] ham and cheese sandwich [and] packed it in a sandwich Ziploc. Then I put a side of chips and 2 water bottles combined in a bigger Ziploc. I put everything away in the fridge." She told Kotaku that she made full lunches so that she could later donate the food packs to the local homeless.
Although she receives these insults in what she estimates are 7 out of 10 matches, Evans wrote that the sandwich jokes are actually some of the tamer things that women experience in FPS gaming. Most of the negative responses she gets are sexual assault and death threats.
"[The sandwich meta] developed into raising awareness as to what is freely said and thrown around by some of these people on video games. In the real world, this should have some sort of consequence," she wrote. "I am also trying to bring a voice to people who are terrified to play FPS due to the toxic nature of these multiplayer games."
Evans has been making sandwiches since she started playing the first Modern Warfare, but her "fragile men" content is more recent. Starting last November, she made a series of TikToks based on how men respond to her saying "nice try," "calm down," or "good job" over voice chat. Some told her to get back to the kitchen. Others told her to "shut up, bitch." None of the clips I watched included death threats, but that definitely doesn't mean they don't happen. The systematic rot goes deep. But that doesn't mean that we can't enjoy this clip of Evans telling her opponent to "make me a house."