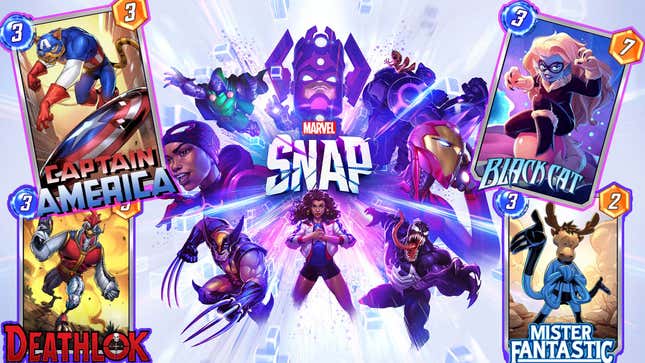 Marvel Snap, the immensely popular online card game and winner of Best Mobile Game at The 2022 Game Awards, is going full furry with its latest update.
The Best Marvel Snap Deck For Winning With Agatha Harkness
Read More: Marvel Snap Is Probably The Best Digital Card Game Out There Right Now

Before you double-check to see if you clicked on an Onion article by mistake or misread furry for "Fury" (like Nick Fury), you didn't on both counts. According to a data mine from Marvel Snap Zone, a fan-run news site, Marvel Snap is getting a bunch of cute anthropomorphic reimaginings of iconic Marvel characters.
Read More: Everything You Should Know About Marvel Snap's Game-Changing New Season 
Chief among the data mine's barnyard of furry variant characters is a Moose Mr. Fantastic, a robot-rooster Deathlok, a cat version of Captain America, a fish (?) version of Black Cat, a bear version of Nick Fury 😏, and an ant…Ant-Man.
While developer Second Dinner's furry card variants, which I assume must be a part of Spider-Ham's wacky universe, are a far cry from its lackluster pixel art variants, I can't help but scratch my head at Captain America and Black Cat's fursona variant cards. Black Cat as a black cat seems like a layup of a design choice but for whatever reason, her variant is a catfish version of Angelina Jolie from Shark Tale that's somehow sporting heels. Call it Black Catfish. Also, while I'm on my soapbox, why isn't Cap a golden retriever instead of a cat boy? His Hollywood actor, Chris Evans, fookin' loves doggos (as he should), so why is his Snap fursona a feline?
Kotaku reached out to Second Dinner for comment, mostly about that last thing.

Aside from furry Snap variant cards coming to your area code, Marvel Snap's latest patch update also introduced a bunch of new cards, updated art and visual effects, and bug fixes. You can read the rest of Marvel Snap's February patch notes in full here.