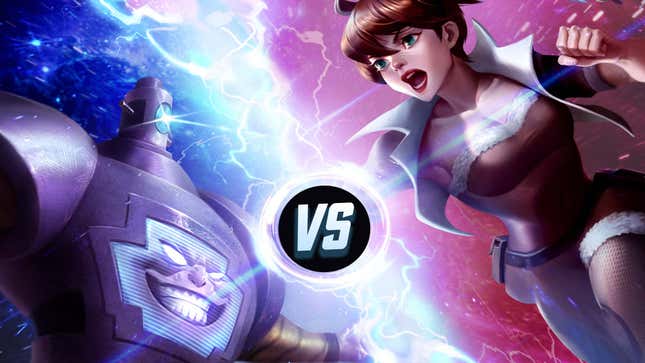 Marvel Snap is very good. We've said that before. Heck, we even called it one of the best games of 2022. But it did lack one big feature at launch: the ability to challenge your friends. Tomorrow's Marvel Snap update will finally add the much-requested feature to the popular card game.
The Best Marvel Snap Deck For Winning With Agatha Harkness
Following a beta period, Marvel Snap came out on phones and PC back in October. It quickly became popular due to its focus on small decks, fast matches, and random chaos. Since then it's received multiple updates, adding good stuff like artist credits, and bad stuff like expensive in-game bundles. But what people really wanted was a way to directly face off against their friends. Shortly after release, the devs promised a battle mode for buddies was coming later in 2022. Then that quietly got delayed to 2023. But it's finally arriving tomorrow, and I'm very excited.

Battle mode in Marvel Snap will work a bit differently than how current matches play out. Instead of one fast match, you'll play multiple rounds against your friend using the same decks. Developer Second Dinner says matches will likely last around 20 minutes, which sounds a bit long for my taste, but we shall see.

How Battle Mode will work in Marvel Snap
Here's how the developer explains this new mode in a blog from earlier this month:

Battle Mode pits two opponents against each other through multiple rounds. Each player starts with 10 health. Instead of Cubes, what's at stake is the amount of damage the winner will deal to the loser. If you can deplete your opponent's health to zero, you win!

In Battle Mode, the stakes become front and center. Every SNAP and Retreat takes extra meaning, as every point of health is critical to remaining alive.
Barring any last-minute delays or issues, starting tomorrow, January 31, you'll be able to challenge your friends to a duel in Marvel Snap. On top of that, a bunch of rare and powerful cards are dropping in Series, like Shuri and Black Panther, letting you farm them easier from the collection path. And they'll cost less in the Token Shop. All around good news!

While some might not care about this upcoming battle mode, I'm very excited. Being able to duel your friends is an important part of a good card game. I also need to beat my coworkers with my awesome Zabu deck. It will make the game even better and make me feel like a smart, powerful gamer. That, or I'll get my ass kicked so bad that I delete my decks and never return to Slack.