Galactus and Deadpool—two guys classified as "bad guys" at one point in time—are going to be Avengers when the Marvel Universe returns to a more recognizable form this fall. And they're going to have a lot of company, some of whom are coming from alternate universes.

The Avengers family of comic books is going to swell to ridiculous proportions when Marvel's All-New, All-Different initiative starts in October. Six loosely affiliated teams will be headlining titles this fall, with a total of 37 members. Readers will get a glimpse of these various squads in Avengers #0, a preview issue due on October 7. You can take a look at some preview pages below.
G/O Media may get a commission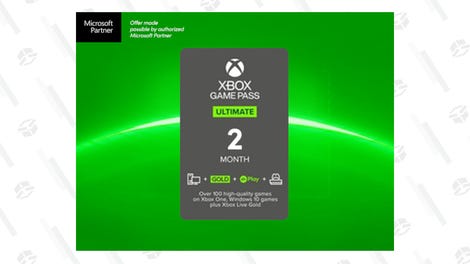 70% Off
Xbox Game Pass Ultimate Two-Month Subscription
Here's a rundown of what we know so far about the many, many Avengers assembling next month.
ALL-NEW, ALL-DIFFERENT AVENGERS
We've already seen this line-up in a preview from this summer. It looks like this will be the main Avengers team, since it's got the latest versions of the heroes who have traditionally been core members of Earth's MIghtiest Heroes
Captain America (Sam Wilson)

Spider-Man (Miles Morales)

Iron Man

Ms. Marvel

Vision

Nova

Thor (Jane Foster)

The premise of this title is that each character is the sole survivor of their respective realities and that they'll take harsher measures to maintain the survival of the new reality that they've wound up in.
Hyperion from mainline Marvel Universe

Nighthawk (from Supreme Power)

Doctor Spectrum (from the Great Society seen in pre-Secret Wars New Avengers)

Blur from the New Universe

Thundra

not sure who the female character in purple is

A-FORCE
Many of the characters from the Secret Wars team book will be showing up in the new series that launches in October.
She-Hulk

Dazzler

Nico Minoru (from the Runaways)

Medusa

Singularity

and a rotating roster of guest-stars

NEW AVENGERS
Operating under the Avengers Idea Mechanism shingle, this seems to be a younger crew of heroes led by Sunspot.
Hawkeye

Sunspot

Songbird

Hulkling

Wiccan

Squirrel Girl

ULTIMATES
Just from the aggregate intelligence and powers of the members, this looks like it'll be the cosmic-level Avengers division.

Black Panther

Galactus

Blue Marvel

Captain Marvel

Miss America

Monica Rambeau

UNCANNY AVENGERS
This is where the guy who used to Captain America winds up, which makes one wonder if there'll be a rivalry between this team and the All-New, All-Different Avengers
Steve Rogers

a Human Torch-type character who might be Inferno or Toro

Rogue

Deadpool

Spider-Man (Peter Parker)

Quicksilver

Brother Voodoo

anyone know who the female character is?