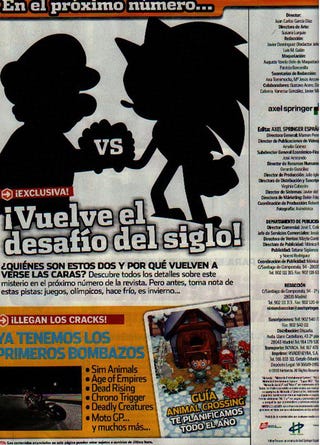 Mario & Sonic at the Olympic Games was a big hit for SEGA. Big hits typically mean one thing: Sequels.
According to this "exclusive" for Spanish Nintendo magazine Nintendo Acción hints at Mario and Sonic teaming up again for a winter games version of Mario & Sonic at the Olympic Games.
Here's a translation from game site Sega Nerds: "Who are these two and why do they come to see each other? Find out all the details on the mystery game in the next magazine. But before that, here are some clues: games, Olympics, It's cold, It's winter..."
While we're not entirely convinced by this scan, a Winter Olympics Mario & Sonic does seem like an obvious no brainer.
Mario y Sonic en los Juegos de Invierno en la próxima Nintendo Acción [Revogamers via Go Nintendo]