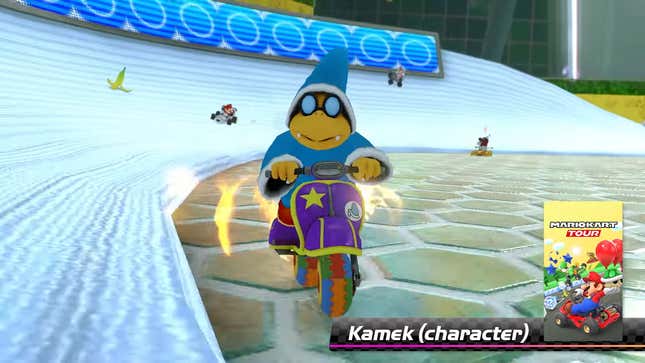 During today's Nintendo Direct, we got a new look at wave five of Mario Kart 8 Deluxe's booster pack DLC.

What You Should Know About Mario Strikers' Big Free Update
Wave five of the Mario Kart 8 Deluxe booster course pass pack comes with the arrival of a new course and three characters. The name of the new bathtub-themed course is Squeeky Clean Sprint. The new characters coming to Mario Kart 8 Deluxe are Petey Piranha from Mario Kart Double Dash, Wiggler from Mario Kart 7, and Kamek from Mario Kart Tour. You can check out the trailer below.
Read More: New Nintendo Numbers: If Mario Kart 8 Keeps Selling Like This, We're Never Getting A Sequel
Mario Kart 8, which was first released ten years ago on the Wii U, made its way to the Nintendo Switch in 2017 as Mario Kart 8 Deluxe. As of this March, the racing game has sold 53.79 million copies globally, according to Nintendo's public sales data. Despite being a decade-old game, Mario Kart 8 is showing no signs of slowing down with the release of returning courses and characters from across the Mario Kart series as downloadable content. Regrettably, the Kamek in Mario Kart 8 Deluxe Wave Five is not voiced by The Simpsons alum Kevin Michael Richardson like he is in the box-office record-breaking animated film, The Super Mario Bros. Movie.
Read More: Looks Like Mario Kart 8 Is Getting Five New Characters
At the end of the presentation, Nintendo revealed that Wave Five of Mario Kart Deluxe will hit the eShop sometime later this summer. If you just so happen to have a Nintendo Switch Online + Expansion Pack, you can grab the upcoming booster pack for no additional cost once it officially releases. If not, you can purchase Mario Kart 8's latest booster pack on its own on the eShop.