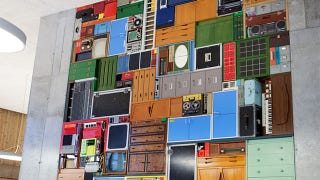 Artist Michael Johansson has a series of pieces he calls Tetris. At first glance they look to be just orderly piles of stuff, but look closer.
See the shapes? The colours? Yeah, he's not just piling up junk neatly, he's arranging them in Tetris shapes, and making sure they all fight together as perfectly as only Tetris pieces could.
Since these images do not play music, here, this will help.
There's more images to be found below, both on Michael's own site and in a feature that's part of this month's Juxtapoz magazine.
Michael Johansson [Site]
REAL-LIFE TETRIS BY MICHAEL JOHANSSON [Juxtapoz, via neatorama]