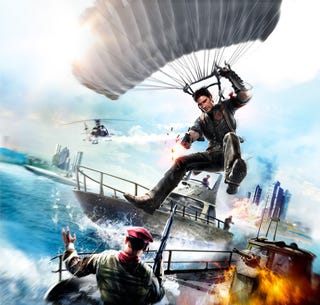 Instructions: 1) Download the Just Cause 2 demo here; 2) play, play, play; 3) submit your video of Rico's best stunt. We'll pick the top 5, post them here, then you'll vote for the most creative ass-whooping. Winner gets a PS3! UPDATED.
Prepare yourself for some extreme chaos creation in this non-stop adrenalin-fueled demo of Just Cause 2. Whether free-falling from thousands of feet, hijacking enemy fighters in mid-air, or simply blasting your way through military compounds on the ground, as agent Rico Rodriguez, you're guaranteed to leave your mark on the tropical island of Panau. With literally hundreds of weapons, vehicles and collectibles to discover and near unlimited possibilities for creative fun, you'll soon find this vast playground is only a tiny portion of what the full game has to offer. Grab a parachute and ready your grapple... it's time to cause some chaos!
So click here to download, and get to it. Email entries to contests@gawker.com with "Just Cause 2" as the subject line. Deadline for entries is Friday, March 26. Video submissions can be no more than one minute long. Winner gets a PS3 and copy of the game; runners up will grab a copy as well. [Rules.]
Just Cause 2 out on March 23, so if you don't win, you can still unleash your arsenal of weapons on Panau. Click here to preorder.