My first professionally-built gaming PC was a Maingear X-Cube, a charming little black box filled with joy and wonder. It looks almost nothing like the younger, sleeker models Maingear's just announced. They've come from the future.
My X-Cube has no glowing window, unless you counted the flickering of the motherboard network port light through the empty five and a quarter inch bay in front. It had no water-cooling, but it did have soda-failing. And you could turn it on its side, just like the new model, but it wouldn't look cool. It would just sit there helplessly, making plaintive beeping noises. Ah, here it is.
I take it back. It's almost entirely the same thing.
G/O Media may get a commission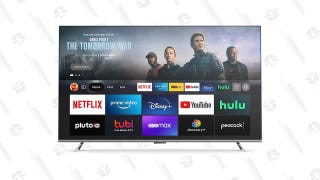 Save 46%
Fire TV 55" Omni Series 4K UHD Smart TV
Is it odd that one of this new case's most attractive features is the ability to turn it so the lighted window is at the top? I always wind up with the window facing away from me on my desk. This one gazes up my nose lovingly, and would serve as an excellent battleground for futuristic action figures.
Here's what's in the new box:
Technical Specification:

Processor: Up to Intel Core i7 5960x 3.0GHz/3.5GHZ
Cooling: Epic 240 CPU cooler (optional)
Video Card: Up to dual graphics: NVIDIA GeForce GTX 980 or AMD Radeon R9 290x
Memory: Up to 32GB Corsair Dominator 2666 MHz Memory
Hard Drive: 3x 1TB SSD, 3x Mechanical drives
Network Adapter: Gigabit Ethernet
WiFi: Up to 802.11b ac, Bluetooth: v4.0
Operating System: Microsoft Windows® Windows 8.1
Power Supply: Up to Corsair 1200i
Dimensions: (W)10" x (H)12.5" x (D)15.5"
Weight: 20lbs
MSRP: Starting at $799
The all-new X-Cube goes on sale today over at Maingear's website, starting at $799. To celebrate the new look, they've also got an X-Cube Battlebox Edition featuring Nvidia's Geforce Titan Z GPU starting at $1,499
My original X-Cube has been sitting in a corner of my dining room since we moved into the new place several months back. The plan was to put a new hard drive in it for my sister, but it turns out she doesn't deserve a new hard drive. Maybe I'll fix it up for the kids, so one day we can all reminisce about how much we loved its stupid face.