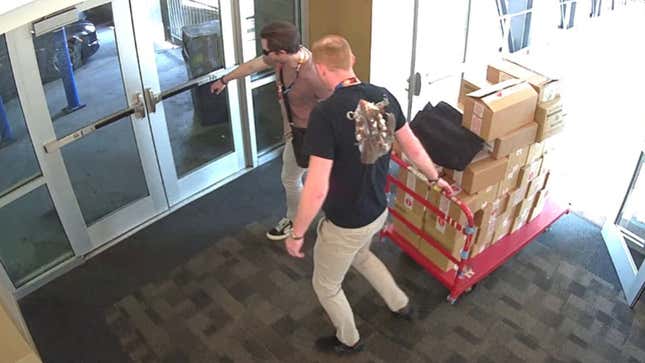 During Gen Con, an annual tabletop gaming convention held yearly at the Indiana Convention Center, some thieves made off with a substantial amount of Magic: The Gathering cards worth hundreds of thousands of dollars. The Indiana Metropolitan Police Department is now looking to speak with two persons of interest: New York City residents Thomas J. Dunbar and Andrew Pearson Giaume.
12 Marvel Snap Cards That Can Go Into Any Deck
Both Dunbar and Pearson are game designers themselves, having produced Castle Assault, a board game that one of the thieves is wearing a shirt for in the surveillance footage of the theft.
Kotaku has reached out to the Indiana Metropolitan Police Department for further comment.
Though originally reported on August 2, the theft is now understood to have occurred on August 1, 2023, shortly before the event was actually open to the public. According to the Indiana police department's's official statement, the suspects "acquired a pallet jack, removed one pallet of gaming cards, and moved them to an unknown location." That single pallet contained as much as $300,000 worth of cards, according to the IMPD. In a statement on Facebook, the IMPD said: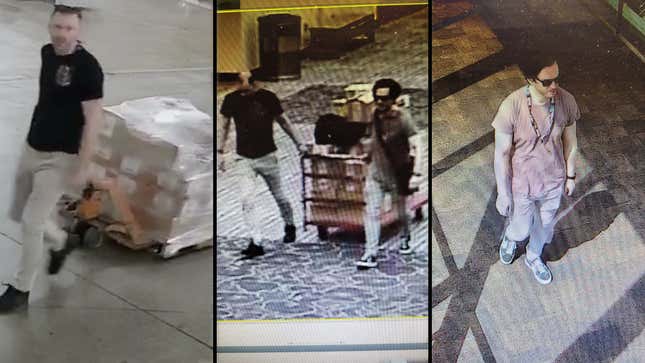 On Wednesday, August 2, 2023, in the downtown area of Indianapolis. The people of interest reportedly acquired a pallet jack, removed one pallet of gaming cards, and moved them to an unknown location. The alleged theft took place before the opening of events in the downtown area and while vendors were setting up their displays at various times.
On August 11, the IMPD released more surveillance pictures showing the two suspects leaving the Indiana Convention Center with a pallet full of Magic: The Gathering cards.
During the event, it was initially mistakenly believed at the time that the cards were for Disney Lorcana, which isn't due to be released to the public until later this month yet is already being sold for substantial sums. With folks lining up for nearly 14 hours to get some time in with Lorcana at Gen Con, it certainly made for a prime target.
On August 5, as details of the theft began to hit various outlets and social media, Ravensburger, the company producing Disney Lorcana, confirmed that all of its stock of Lorcana was present and accounted for.
A few hours later, Indiana games shop Pastimes Comics & Games confirmed that the cards were indeed Magic: The Gathering. The pallet contained "mostly Commander Masters Sets and Collector Boosters," which can retail for as much as $300 to $400 and typically contain multiple rare and legendary cards. At least we know that the pallet didn't contain the $2M One Ring card.