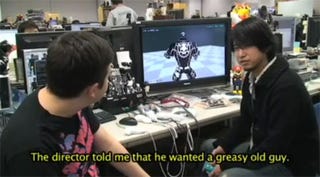 As part of its continuing efforts to "get it," MadWorld developers PlatinumGames give us a glimpse of something we rarely see—a behind-the-scenes tour of a Japanese video game developer. In English.
PlatinumGames' JP Kellams—who is also a swell fellow—gives the Wii-owning public an opportunity to see a typically unseen side of video game development, giving MadWorld's creators some serious face time. There are cool details on character design, lighting and the visual influences of the Wii game throughout.
Make sure to watch if you have dreams of becoming a "blood designer" in the video game industry. Invaluable information within!
PGTV Episode 2: MADWORLD Studio Tour [PlatinumGames]