Madden NFL 13 says the Baltimore Ravens will claim their second Super Bowl championship on Sunday, 27-24, handing San Francisco its first defeat in six visits to the NFL's title game.

As you can see in this video above, EA Sports' annual simulation this year came down to a last minute drive. Facing third down from about the 34 with 17 seconds left, Colin Kaepernick's pass for Randy Moss was intercepted in the end zone by Ed Reed. Appropriately enough, Ray Lewis forced the bad throw when he blitzed Kapernick uncontested, hurrying the throw and landing a crunching hit for good measure.
The interception ended a see-saw battle in the game's final two minutes. Vernon Davis's 12 yard touchdown catch with 2:04 left tied the game at 24. Baltimore then drove into 49er territory but stalled, taking the lead 27-24 on a 40-yard field goal by Justin Tucker with 50 seconds left. That set up the drama of San Francisco's final drive.
The 49ers scored 14 fourth-quarter points to tie the game. David Akers' missed 50-yard field goal in the third quarter proved costly. His lack of accuracy (Akers is 9-19 in field goal attempts 40 yards or longer this year) is likely the reason the 49ers were throwing on third down with 17 seconds left, beyond the 30 yard line, rather than running the ball to attempt at least a 40-yard kick to tie. San Francisco appeared to have timeouts left, taking one to decide what to do on third down. The materials released by EA Sports weren't more specific.
Both teams' offensive stars had remarkably similar games: Kaepernick was 18-of-29 passing, for 257 yards with one touchdown and the game's only turnover, the interception on the final drive. Joe Flacco was 19-of-27 for 260 yards and two touchdowns.
G/O Media may get a commission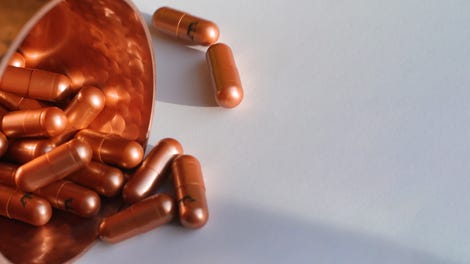 health
The Lyma Supplement
Running the ball, Ray Rice picked up 104 yards and a touchdown on 19 carries for the Ravens; Frank Gore scored two touchdowns and gaiuned 101 yards on 17 touches. Baltimore's Anquan Boldin had eight catches for 87 yards and a touchdown; Michael Crabtree led 49ers receivers with 85 yards on six catches.
This is the fourth straight year Madden NFL has picked the Vegas underdog, and the second straight time it's called for a final score of 27-24. Last year, Madden hit when it took New York in an upset over New England. The series has been right in seven of the past nine years, and 6-3 against the spread. Its only straight-up misses have been with the Giants in 2008 (an upset of the heavily favored Patriots) and with Pittsburgh in 2011 (losing to Green Bay.)
EA Sports' simulation uses the most recent roster update and depth chart available to all gamers, and is run once on a standard console. Both teams are computer-controlled and artificial intelligence and penalty sliders are not adjusted, but injuries are enabled. A box score provided by EA Sports showed the game being played with full 15-minute quarters.
The more recent results also suggest some refinement of the game's artificial intelligence. In the simulation's history, Madden did not pick an underdog until it took Drew Brees and the New Orleans Saints to win Super Bowl XLIV. The game also had returned total point scores way over the bookmakers' over/under figure until 2011, when Madden's predicted 23-20 final score took the under for the first time ever. But at 51 points, this simulation comes in over the current Vegas line of 47.5.