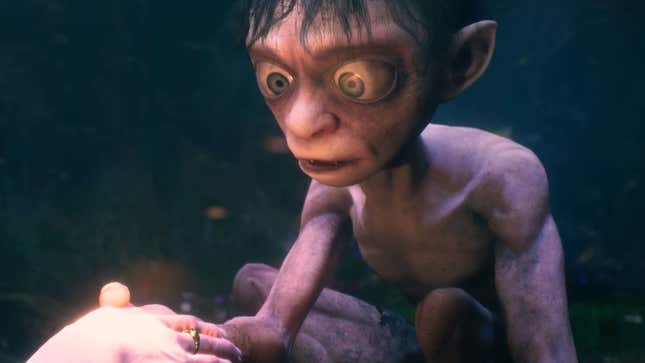 After apologizing for the dismal state of The Lord of the Rings: Gollum, Daedalic Entertainment is now shuttering its development arm to instead focus on publishing games since Gollum didn't meet the studio's expectations.
This Stylish Noir-Punk Side-Scroller Is Like Celeste With Guns
Read More: Lord Of The Rings: Gollum Studio Apologizes For 'Underwhelming Experience'
According to a report by German news magazine GamesWirtschaft, Daedalic Entertainment said 25 of its over 90-person team have been affected, saying it was a "difficult decision" but one that'll mark "a new beginning" for Daedalic. In an email to Kotaku, a Daedalic Entertainment representative said that eight "promising releases" are still coming in this financial year, though it wasn't specified if these games are developed by the studio or someone else entirely.
"Even though The Lord of the Rings: Gollum did not live up to the expectations we had for the game, we are very grateful for the opportunity and the learning experience it brought us," the representative said. [It's] a difficult break, but also a new beginning in the already long history of Daedalic Entertainment. We value each and every member of our team very much and it is important to us that the transition goes as well as possible. We will therefore support our former employees in finding new opportunities within our network."
As a result of this change in strategy, Daedalic Entertainment's in-development projects, including the other 3D action-adventure game set within The Lord of the Rings universe codenamed "It's Magic," have been halted. Surviving Deponia, the single-player colony simulator announced on June 10, will continue as planned with AtomicTorch serving as the primary developer now.
Read More: Dang, This Rough Lord Of The Rings: Gollum UI Though
The Lord of the Rings: Gollum launched on May 25 to much derision from critics and players alike. Despite reportedly pulling in $400,000 in sales and reaching the number six spot on the U.K. sales chart in its first week, Daedalic Entertainment said it still didn't meet expectations. That makes sense considering just how bad it was. Folks dragged it online for everything from Gollum's character model to the typeface used. It flopped so hard the studio tweeted an apology on May 26, promising to fix the bugs and technical issues to make it an enjoyable experience, though the studio has been silent since. However, according to GamesWirtschaft, a patch is currently being worked on.
Update 06/30/23, 2:20 p.m. ET: Updated the story with comments from a Daedalic Entertainment representative