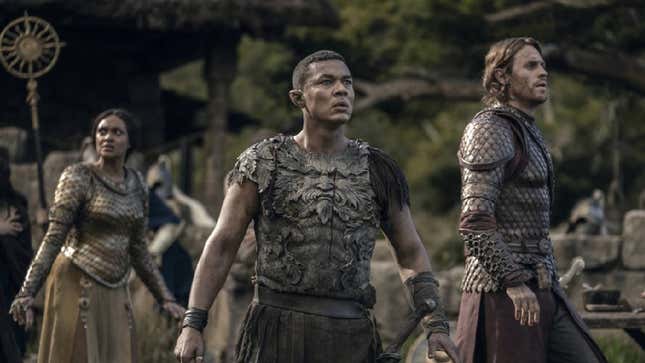 Some guy is currently suing Tolkien and Amazon to the tune of $250 million. That alone takes serious bravery. But what's notable about this lawsuit is the reason he's suing: Copyright infringement over his Lord of the Rings fanfic. Specifically, he's arguing that Amazon lifted elements of his fan-fiction for its own Tolkien adaptation TV series, The Rings of Power.

10 Creatures We Wanna Ride In Star Wars Jedi: Survivor
Demetrious Polychron wrote a book, a work of fan-fiction set in J.R.R. Tolkien's Middle-earth, called The Fellowship of the King, which he copyrighted in 2017 and which later were published and made available for sale, including on Amazon. According to PC Gamer, Polychron sent a letter to the Tolkien Estate asking for a manuscript review. That's right: This man asked J.R.R. Tolkien's grandson Simon to sign off on his fanfic. Unsurprisingly, he did not get a response.
In September of 2022, the month that Polychron published The Fellowship of the King, Amazon also began airing its extremely expensive Lord of the Rings spin-off series, The Rings of Power.  hundreds of millions of dollars on developing an adaptation called Lord of the Rings: The Rings of Power. Now, Polychron is arguing that the Amazon TV show lifts elements from his novel.
According to RadarOnline, which has seen documents pertaining to the suit, Polychron alleges that characters and storylines he created for his book "compose as much as one-half of the 8-episode series," and that in some cases the show "copied exact language" from his book. However, the claims seem spurious. For instance, the lawsuit purportedly points to the fact that both his book and the show feature a hobbit named Elanor, with the Elanor in his book being the daughter of Samwise Gamgee, while the Elanor featured in The Rings of Power is a Harfoot. Images purporting to be the lawsuit circulating online include a host of other circumstantial connections or similarities to back up Polychron's argument that the writers of Rings of Power lifted ideas from his fanfic for their own story.
Polychron's lawsuit for copyright infringement, filed on April 14, names Amazon and the Tolkien Estate as defendants in the U.S. District Court For The Central District of California. Polychron claims that his novel was "inspired" by LOTR, but is an "original" work. Nobody is convinced, not even the reviewers who had kind things to say about it. "While unabashedly derivative, The Fellowship of the King offers LOTR fans a fun, appropriately epic return to Middle-earth," wrote Edward Sung for IndieReader. Ouch. It doesn't sound like the book scores any points for originality, even if it's a fun enough read.
At the time of writing, it appears that Polychron's book has been delisted from Amazon. Kotaku reached out to Amazon to ask when it was removed, but did not receive a response by the time of publication.
While no one believes that Polychron will win against the Tolkien Estate, there are concerns that the lawsuit might negatively impact the legality of fanworks in general. Hopefully, fanfic writers will be fine as long as they're not trying to extort Tolkien's grandson.