Since I started on my racing wheel kick back in October of last year, aficionados have been urging me to give Logitech's popular G27 wheel for PS3 and PC a spin. Instead, I jumped forward a generation.
WHAT IT IS
The Logitech G29 Driving Force Racing Wheel is essentially an upgraded version of the G27 force feedback wheel with a more branded face and support for the PlayStation 4.
Here's the five year old G27.
G/O Media may get a commission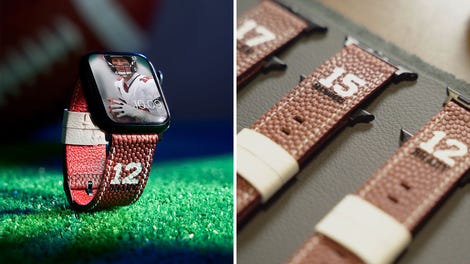 Official NFL PRODUCTS
Official NFL Apple Watch Bands
It's a lovely setup, keeping things minimal on the steering column—just six programmable buttons, an LED RPM indicator and the paddle shifters, with the main PlayStation 3 navigation buttons relegated to the included shifter.
Here's the brand-new G29.
The paddle shifters and LED RPM indicator are still there, but the face of the wheel is now bustling with PS4-specific controls. Home button, Star, Share, d-pad, face and shoulder buttons, along with a couple extras, notably the selection dial with enter button. The wheel is the same aluminium wrapped with stitched leather, only now the wrap is interrupted with the center indicator strip that seems to be a requirement for today's higher-level racing wheels.
Those of you who've read my reviews of Thustmaster, Hori and Mad Catz wheels will be happy to note that this set is not "missing a pedal."
There's a bit of controversy surrounding the G29 in the Logitech racing community. Fans of the previous model were hoping for some sort of upgrade to make the G27 compatible with the PlayStation 4—there are adapters that can get the job done, but the resulting input lag is unacceptable to hardcore racing game fans. Instead of using some sort of technical wizardry to get the G27 to work on a system it wasn't built for, we've got the G29, a $399 upgrade that doesn't even come with the G27's included shifter (an optional Driving Force Shifter is available for both the G29 and Xbox One's G920 for $59.99).
Now I managed to clock a little time with the earlier model at a friend's house prior to reviewing the G29, and the difference between the feel of the two is negligible enough that PC and PS3 racers should be fine sticking with the G27. In fact, with prices nearly $150 lower these days, I'd likely still recommend the G27 for dedicated PC racers.
But for PS4 racing? Well, first...
WHAT I DID WITH IT
First I held it in my hand and took a picture.
This helped me determine heft and comfort, while allowing me a chance to show off 1.1 tattoos.
Then I attached it to my desk. I'm still in the market for a good dedicated mounting solution—right now I am torn between going full chair or a more portable solution like the V2 from Wheel Stand Pro. Luckily my desk isn't too thick, and the clamps built in to the G29 worked just fine. Then I connected the power supply (force feedback needs juice) and pedals, plugged the USB into the PlayStation 4 and went to work.
Right not there are really only a couple of racing titles worthy of a dedicated racing wheel setup on the PlayStation 4, and one of those is Driveclub, one of two games with built-in support for the G29 at launch. It'll work fine with most racing games that accept wheels—you may have to tweak a few setting—but for Driveclub it's all plug and play goodness.
I spent a few hours with Driveclub on the PlayStation 4, but the majority of my time with the G29 was spent on PC. This is because I own a wider array of racing games on the PC. Also the fact that when the wheel is attached to my desk the PlayStation 4 screen is to my left, which isn't how a person should be driving.
PC setup is pretty easy as well. Plug it in, download the Logitech controller software and it'll conform to work with most prominent racing games.
I played some Grid 2 and some The Crew, but most of my racing miles went to the other game with built-in support for the G29 at launch, good old Project Cars. You know, the pretty one.

As advertised, there's an option for the G29 in the options menu of Project Cars, along with just about every other racing wheel worth its salt.
So I played a fair bit of Project Cars on PC, a game I hadn't really taken much to previously. For one, I'd been playing on PC with an Xbox controller for some stupid reason. Plus it falls a little too far on the simulation side for my tastes.
Or at least it did. As it turns out, simulating a car is much more enjoyable when you're also simulating the car's controls. Who knew? Aside from just about everybody.
WHAT I LIKED
So Quiet: Too much noise from the wheel can pull you right out of the racing experience, the same way a strange sound coming from your car drives you nuts. But powerful force feedback response needs powerful moving parts, so some noise is unavoidable. Out of all the wheel's I've tested so far the G29 is the quietest, delivering all the fury with a fraction of the sound. Now and then there was a bit of a knocking sound, but only in situations a capable racing gamer shouldn't find themselves in too often.
Spot-On Force Feedback: Not too jerky, not too light. The dual-motor force feedback on the G29 might not be as powerful as the Thrustmaster T300 I reviewed last year, it makes up for that slight deficiency with precision. You know what road surface you're on with the G29. You know well in advance of spinning out that you're taking a turn too fast. And you'll know that, despite all proof to the contrary, other cars don't make the best brakes.
Nice Undercarriage: Racing wheels with multiple bits use a lot of gcables. The G29's underside features four convenient channels for tucking away the USB, power, pedals and optional shifter. Oragnization is important!
Also important: making sure your pedals aren't slipping on the floor. The underside of the foot unit is quite nice as well, featuring rubber grips for hard floors and concealed spike strips for digging into carpet, my office flooring of choice. Concealed spikes are always a plus.
Wheel Feel: Though I'd prefer something slightly bigger than 10.5 or so inches—big hands—the G29's soft leather wrap feels really good. So good that it bore mentioning. So good that I'm considering wrapping my mini-van's wheel.
WHAT I DIDN'T LIKE
Not The Face: I know Logitech had to get their PlayStation branding on, but all of those buttons combined with the red and blue accents are just too much.
Compared to sleek layout of the G27, this looks more like a toy than a piece of expensive equipment. Sure, technically it is a toy, but it doesn't have to advertise it. It's not so much an issue if you're looking for a PlayStation 4 racing wheel—the branding fits in there quite well—but a dedicated PC racer doesn't need that massive PlayStation symbol in their face all day.
Mount Shock: At first I dug the plastic clamps built into the underside of the G29's wheel base. Then I tried moving it from my skinny-ass Ikea table to something with a much taller lip, and they just wouldn't open wide enough to grip. An alternate in-box solution would have been nice. I really just need to suck it up and buy a dedicated mount.
My Final Thoughts
I've got a feeling that, had I gotten into racing wheels just a couple of years earlier, right now I'd be clinging desperately to my G27 and fretting over the price of a slight upgrade for PlayStation 4 support.
But I'm new, and the G29 Driving Force is a contender for the best racing wheel you can buy for the PlayStation 4. If it comes down to the G29 and Thrustmaster's similarly-priced stock T300 RS, Logitech has the advantage. Toss in the three pedal add-on for the T300 and I'm going to jump out of the window to avoid having to make that decision.
I'd most likely recommend the G29 for PC users, but I'd most likely recommend the older, less-expensive G27 a little more.
Contact the author, whose window is only six feet off the ground, at fahey@kotaku.com or follow him on Twitter at @bunnyspatial