According to the numbers, the champ boxer may not be as good as some believe.
Smash Bros. will be getting a patch sometime this month to fix the game balance. While the exact details of what will be tweaked have not yet been revealed, a lot of players are probably hoping that one of the game's more controversial characters, Little Mac, will be getting some of his Mike Tyson slamming muscle toned down a bit.
Series creator Masahiro Sakurai offered a new perspective this week in his column in Weekly Famitsu. Being on the developer's side, Sakurai is able to view online player statistics for the game, and one particular statistic was brought up. "For Super Smash Bros. Brawl, the individual character win ratios lined up nicely in a staircase format, but [for Super Smash Bros. for Nintendo 3DS] one fighter has a significantly low ratio." Sakurai wrote. "It's Little Mac."
That's right, everyone's favorite character to hate to run into, Little Mac, apparently has the lowest win ratio of all the characters. Sakurai writes of Little Mac as such, "Little Mac is a fighter with very pronounced strengths and weaknesses. While he has an enhanced dodge and megaton-level punch for aggressive play, he has very weak jump power and a simple back throw along with a follow-up attack prove to be crippling."
G/O Media may get a commission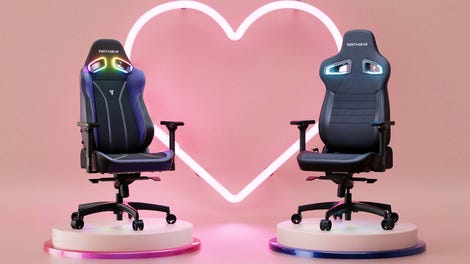 Up to $150 off
Vertagear Gaming Chairs
Sakurai notes that players may perceive Little Mac to be stronger than he actually is, which has led to the influx of online usage of the character. "It appears that the biggest reason for his low win ratio is because people fall under the assumption that 'Little Mac is strong!' and all rush to use him only to get pummeled in return." Sakurai remarked. "He gives the impression of being able to win easier than other fighters which leads to more people using him, but in reality, he's a difficult character to actually continuously win with."
The upcoming patch for Smash Bros. may lessen Little Mac's punch, but even if it does, it probably won't weaken him all that much. For Sakurai, the player-perceived imbalance is actually an ideal situation for greater game balance. Having players flock to use one character will teach other players to counter that character and encourage higher levels of gameplay – hence Little Mac's low win ratio.
According to Sakurai, a situation like this was a possibility that he had anticipated, however players may not exactly share his sensibilities which may or may not end up with the character getting powered down in the upcoming patch. Still, while the perceived imbalance may have been more than initially anticipated, it's better to have characters with different strengths and weaknesses than to have all the characters be the same and end up bland. Or as Sakurai puts it, "I believe that averaging out character stats is a bad move in both play and competition."
Super Smash Bros. for Nintendo 3DS is currently available for the Nintendo 3DS. Super Smash Bros. for Wii U is scheduled for release in the US on November 21st, Europe on November 28th, Australia on November 29th, and Japan on December 6th.
Note: Players using unpatched versions of the game will not be able to play against players with patched versions of the game.
ファミ通.com [ファミ通.com]
---
Kotaku East is your slice of Asian internet culture, bringing you the latest talking points from Japan, Korea, China and beyond. Tune in every morning from 4am to 8am.
To contact the author of this post, write to cogitoergonihilATgmail.com or find him on Twitter @tnakamura8.