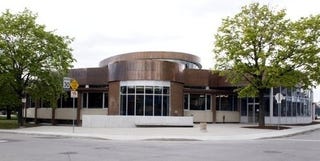 With the goal of one day offering 150 titles for checkout across its 38 locations, Toronto's public library has taken steps toward building a video game collection - but figures it needs $300,000 to make it happen.
Library administration says such a collection would foster literacy and problem-solving skills and reach younger patrons in ways the traditional library offerings do not. The Toronto Public Library (pictured) isn't the first to consider such a collection - other, smaller, libraries in the U.S. have offered games for lending and reported upticks in young reader visits and use of the library.
Of course it starts the argument over what should be offered - whether it's violent games versus family-oriented fare. But there's another debate about this collection that needs to be held. Any library would be expected to lend the staples of great literature and nonfiction; it's not clear from the story whether a games collection would be held to the same standard. It sounds more like a free rental service.
Thinking big picture - as we're talking about introducing games to people who haven't played them - what are the culturally significant titles a library should consider offering? Is limiting this to the current and previous console generation too restricting? How could PC titles be accommodated, if at all?
Those are tough questions to answer; the Toronto Library admits "this is a plan, not a reality." But if they get to that point, what video games should it plan on stocking?

Coming to Toronto's Libraries: Video Games [Toronto Star via Game Politics]