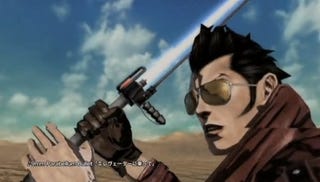 Action title No More Heroes, a game supposedly intended for the Xbox 360 originally and then moved to the Nintendo Wii, is finally coming to the Xbox 360. And the PS3.
With No More Heroes: Heroes Paradise, the series is making the leap to hi-def.
According to a Famitsu article from last fall, the game features Japanese voice-acting and a game mode in which the female characters are wearing skimpy clothes.
Heroes Paradise is out February 25 in Japan.