Builder Savath_Bunny shared superb-looking Pokémon center on LEGO Ideas and filled it with the main characters, Pokémon starters and all the gadgets you can find in the games.
It's a relatively compact and reasonable build, so I could totally see an official box set similar to this sitting on the shelves of stores (and the contents of my wallet fading away). There's also a nice backstory:
Our heroes have traveled to Kalos City where some much needed rest and relaxation is in store for this group's Pokémon. Stopping at the local Pokémon Center the team bumps into the knowledgeable Professor Oak. He reminds the friends to always be kind to their Pokémon if they hope to see them evolve someday. After stocking up on essential potions, pokeballs and updating their Pokedex, this band of adventurers are off once again in the pursuit of more gym badges!

Pikachu's Pokemon Center Visit includes the following:

5 Minifigures:
Ash Ketchum
Misty
Brock
Nurse Joy
Professor Oak

5 Starter Pokémon:

Pikachu
Squirtle
Charmander
Bulbasaur
Eevee
Check out the highlights below and the rest of the gallery on LEGO Ideas, where it's awaiting votes.
G/O Media may get a commission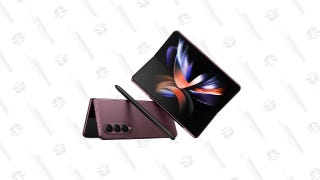 Save Up to $300
Galaxy Z Fold4
Pikachu's Pokémon Center Visit [LEGO Ideas]
To contact the author of this post, write to: gergovas@kotaku.com