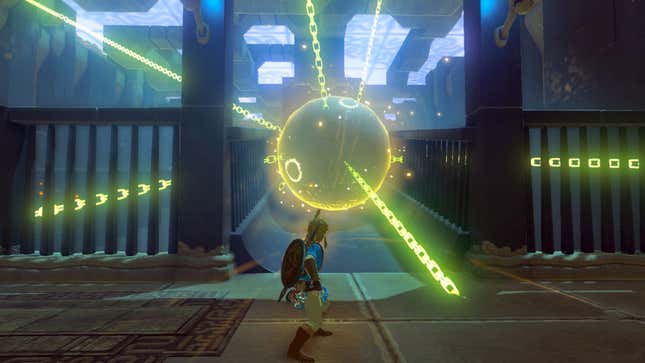 The Legend of Zelda: Breath of the Wild came out in March 2017, instantly becoming Nintendo Switch's most potent system seller. I mention that because despite how old Nintendo's open-world action-adventure game now is, diehard fans of Link's latest journey through Hyrule are still figuring out cool and obtuse ways of exploring the game's dilapidated kingdom almost six years later.
What You Should Know About Mario Strikers' Big Free Update
The nearly six-year-old game features a limitless-feeling open world. You scour the world looking for equipment that won't break and can also use the game's impressively in-depth physics engine to pull off some incredible stunts, like reaching an arrow deemed "impossible" to get to or killing the intimidating Guardians with flashy anime swordplay.
After almost six years on the market, you'd think players would have seen and done everything in Breath of the Wild. Don't be silly! Of course not. Stans of Nintendo's open-world Zelda continue to post their insane discoveries online, sharing videos of the shenanigans they get into. And lately, folks on Twitter are once again revealing the bonkers ways they're solving the many puzzles of the game's 120 explorable shrines.
Case in point, Japanese player Peco just tweeted footage in which they casually pick up a treasure chest, toss it over an abyss, freeze it in place, and use it as a stepping stone to hop right to the shrine's prize. It goes without saying I never even thought was possible during my own BotW playthrough. Or take Twitter user sybil grimalkin, who used the magnesis ability to simply drag the menacing spiked balls swinging over a narrow bridge out of the way so they could just walk to the treasure.

Another Twitter user named Kay grabbed a platform with the magnesis ability to unlock huge doors in an unknown shrine, though they ended up getting crushed to death when the doors swung up. I guess not everything goes according to plan.
Shrine shortcuts aren't the only shenanigans Breath of the Wild players are getting up to. Folks are uncovering new methods of traveling around Hyrule Kingdom like turning a pair of rocks into a magnet-powered horse-drawn carriage of sorts. It's a little insane just how boundless the game can be. With a bit (or let's be honest, a lot) of creativity and determination, Breath of the Wild is really one of those games that let you do almost anything.
The much-anticipated sequel, The Legend of Zelda: Tears of the Kingdom, lands on May 13 for Nintendo Switch. It'll be interesting to see how Zelda fans break the upcoming game and the things they discover when doing so. Until then, though, Breath of the Wild still seems ripe for the picking.