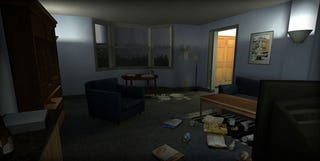 Now that Valve has added custom campaign support, expect map makers to cross every pop culture zombie reference off the list of available mods. Dawn of the Dead? Check. Resident Evil? Check. Shaun of the Dead? Ch... yay!!
While still early in development—and reportedly suffering a few bumps along the way—the Left 4 Winchester mod aims to recreate the journey from the Shaun's apartment featured at the beginning of comedy horror masterpiece Shaun of the Dead to its Winchester pub conclusion. Spied by Offworld, the custom campaign is planned to feature five chapters, each featuring one of the film's landmarks.
What's left then? Night of the Creeps? That's probably stretching it, eh?
Left 4 Winchester [via Offworld]