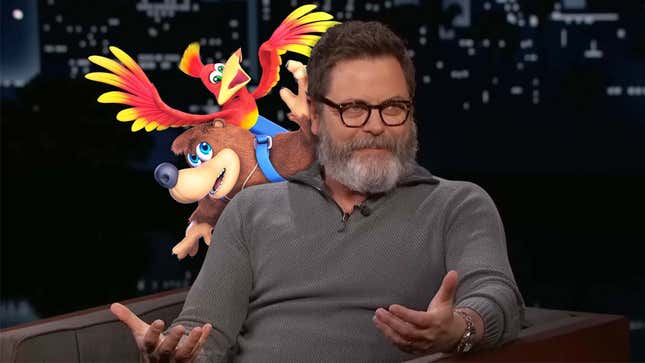 Nick Offerman, the actor who portrayed survivalist Bill in the knockout third episode of HBO's post-apocalyptic drama The Last of Us, has revealed that not only has he not played the game the show is based on, he also hasn't played any video game in a quarter century because he "lost a couple of weeks" to a particular one, all those years ago.
The Witcher 3 Meets Tense Roguelike PvE Card-Battling In Rogue Mage
Read More: HBO's The Last Of Us Reclaims The Queerness Its World Forgot
Offerman sat down with talk show host Jimmy Kimmel last night to discuss the show, his performance on the latest episode, and how well some of his on-screen characters (such as Bill and Parks and Recreation's Ron Swanson) would survive in an apocalypse, among other things. Of course, since he's starring in a show based on a video game, Kimmel asked Offerman if he's played Naughty Dog's post-apocalyptic action-adventure The Last of Us. Well, he hasn't. Not only that, the last game he played was Rare's 1998 Nintendo 64 platformer-collectathon Banjo-Kazooie.
"25 years ago, I played my last video game and I'm very indulgent. I lost a couple of weeks to a video game called Banjo-Kazooie," Offerman said to audience cheers. "Two weeks went by and, you know, I was like, 'Oh my god, the slow dopamine drip is so delicious.' Then it's over and you're like, 'Yes, I won!' And immediately, I'm like, 'What have I done with my life?' And so, I decided I'm never going to do that again. And so thankfully, because games have gotten so good, like The Last of Us, that I think I'd be in a basement and I wouldn't even be going to audition for shows like this."
Banjo-Kazooie is Rare's Mario-like platformer starring the titular brown honey bear and red-crested breegull duo. Released in 1998 for the Nintendo 64, the game saw you running around a bevy of non-linear locations to collect stuff, beat enemies up, and solve a few puzzles. It spawned a direct sequel in 2000's Banjo-Tooie, and the 2008 vehicle construction game Nuts & Bolts for Xbox 360. Thanks to 2015's Xbox-exclusive classic compilation Rare Replay, all three games are playable on Xbox today, but whether the bear and bird will ever get another game of their own or are just relegated to appearances in series like Smash Bros. (where they are menaces to deal with) remains to be seen.
The clip has, inevitably, made its way to gaming Twitter, with some folks "fully [falling] in love" with Offerman. Others seem to find his sentiment "relatable." There's also an interesting discussion around the phrasing of "lost time" when it comes to playing games for long stretches of time. My two cents is, as long as you find enjoyment in the time you spend, then there's nothing wrong with devoting time to games. This can be tenuous, as some live-service games are practically designed to monopolize your time, and can function as de facto second jobs. But if you glean something helpful or meaningful, even if that's simply joy from beating a game you like, then that's all that matters at the end of the day.
Kotaku reached out to Offerman for comment.
Read More: The Last Of Us Fans Are Creating Amazing Bill And Frank Fan Art
The Last of Us has been a pretty successful HBO show thus far, with Episode 3 (which aired last Sunday) reaching 6.4 million people. That seems to be, in part, because of the moving performance Offerman gave as Bill, a gruff survivalist who, in the show, shares a deeply moving love story with a man named Frank (played by Murray Bartlett of The White Lotus). Some fans are already advocating for an Emmy nomination for Offerman. If he does get one, at least he'll be able to attend the ceremony rather than being stuck at home playing video games.