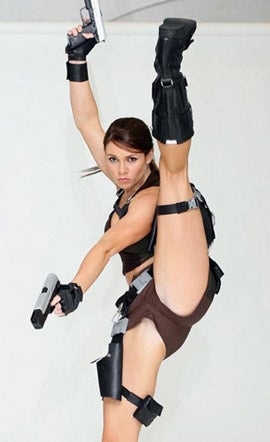 UK game publisher Eidos says Tomb Raider: Underworld sales are below forecasts. Eidos blames the cratering US economy. We blame the high kicks.
According to the BBC, North American game retailers are already selling Tomb Raider: Underworld at a sizable discount — not a bad thing if you want to buy the game, but not so good for Eidos. The company had put full year revenue forecast at somewhere between £180m and £200m.
The 2008 revenue results will actually fall between £160m and £180m. Eidos said it might have to discuss debt repayments with its lenders.
According to Eidos: "In an difficult North American economy, we have seen retailers restricting inventory levels and...products priced discounted above our expectations." Eidos isn't the first company to complain about this stinky economy and certainly won't be the last.