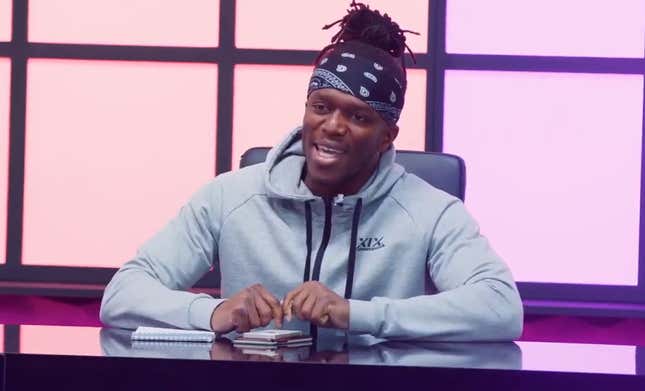 YouTuber Olajide "KSI" Olatunji and the Sidemen group have apologized after mining a racial slur for comedy during their parody of the Countdown game show. "There's no excuse, no matter the circumstances, I shouldn't have said it and I'm sorry," the rapper and amateur boxer tweeted after the group published the offensive clip online.

Tears Of The Kingdom's Newspaper Questline And The State Of Hyrulean Journalism
The slur appeared in the April 2 weekly Sunday Sidemen video recreating the challenge from the British game show Countdown in which contestants have to assemble new words out of a random set of letters. "Look, we need points all right?" Olatunji said at one point during the YouTube competition. "I don't mean this maliciously but the word's 'P***.'" A derogatory term for South Asian people, the slur was bleeped out in the video but the entire panel started laughing hysterically after Olatunji said it.
The video and clips of it have since been deleted from the YouTubers' social media and video feeds, and Olatunji posted an apology on Twitter. "I've always said to my audience that they shouldn't worship me or put me on a pedestal because I'm human," he wrote. "Im not perfect, I'm gonna mess up in life, and lately I've been messing up a lot."
The Sidemen group also tweeted its own apology the following day, calling the slur "completely unacceptable and inexcusable." "The fact the incident was made light of on the show was wrong and compounded the hurt," Sidemen wrote. "We deeply regret this and would like to truly apologize." The group said it stands against racism and discrimination and failed to do that in this instance.
Plenty of fans have tried to defend the slur, downplaying its offensiveness or suggesting it was less harmful because Olatunji did not direct it at anyone in particular. Others have pointed out that the remark is in some ways even worse since it was turned into a joke which then survived several layers of post-production editing to appear in the finished video.
The Sidemen originally grew out of a Grand Theft Auto Online group, and has since become one of the most successful content creator groups on YouTube, parlaying the name into side ventures like restaurant chains and vodkas. The best known member, Olajide has been making content online for over a decade, more recently building up a career in music and breaking into celebrity boxing with matches against Logan Paul. Following the slur, he said he now plans to take a break from the internet for a bit.