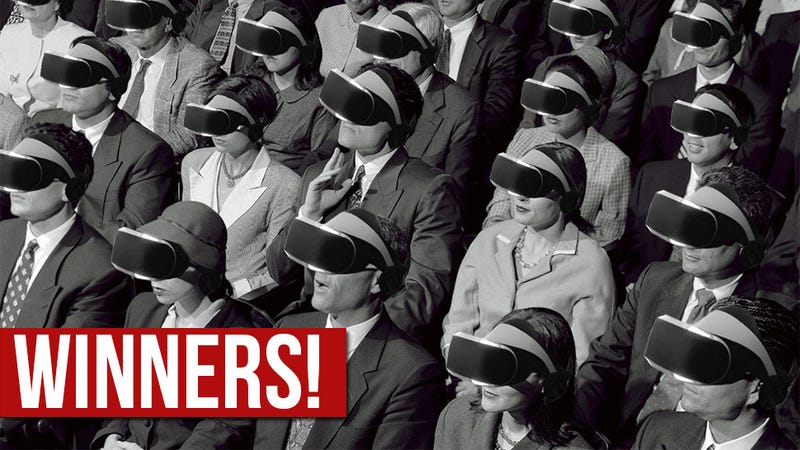 Nothing captures the magic of the future quite like the past. Last week I tasked our image manipulation-savvy readers to capture the glory of large, bulky, vision-obstructing virtual reality headsets. They did not disappoint.
Now I know why our previous 'Shop Contest runner would cry himself to sleep every night. With so many amazing entries, how do I pick a mere handful? Why don't I just copy and paste the entire comment thread from the contest post into this one?
Well, because that wouldn't work with Kinja. Thanks, Kinja!
So instead, I carefully cultivate a crop of virtual masterpieces, drawing on my vast knowledge of classical art, my technical know-how and — most importantly — sheer whimsy. You done good this time, whimsy.
As always until I die, there'll be a new contest tomorrow. Want to nominate a subject image? If only we had a vaguely functional commenting system...
---
Carfie Darko
---
pwolfamv
---
amakeleven
---
Francisco Ramírez
---
Cyclops9292
---
Konata Izumi
---
spartanwarrior
---
Bizwax
---
kflebeda
---
i2live
---
toolsoldier
---
MrDeadScott
---
Costermonger
---
Sanctuaire
---
Ntbusso
---
SubieRoo
---
Ellen J Miller
---
Contrarianator
---
Orionsangel
---
arniejolt