After a whirlwind week of shooting into a gaping hole, Bungie has killed our precious Destiny loot cave, leaving it empty and barren. Fortunately that's nothing a little creative image manipulation can't fix.
Okay kids, this one should be relatively easy. You've got an empty cave. Fill it with people, places or things. Put nouns in the hole. Just nouns. If I see one adverb in these holes, I am going to be ticked.
At great personal risk to my virtual person, I obtained three screenshots for you all to work with (or use your own), all while a level 20 player who hadn't got the memo yet tried to beat me to death.
G/O Media may get a commission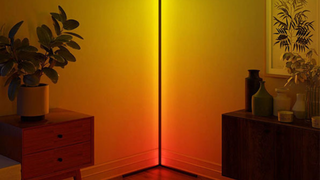 Save 60%
Minimalist LED Corner Floor Lamp
Now put things in the hole. Try not to make it too much fun, or Bungie might patch it. You have a week starting... now.
How To Upload Images — Instructions
1. Create your 'Shop and save it to your desktop. Images must be at least 636 pixels wide. If they aren't, you will be shot.

2. Go to the bottom of this post

3. This brings up a comment window. Click

4. This brings up Click "Choose file" if you're uploading your 'shop from your desktop

5. Alternatively, you can upload the 'Shop to a free image hosting service. I suggest imgur. Then paste the image's URL into the field that says "Image URL." Note: this must be the URL of the image itself, not the page where it is displayed. That means the URL ends in .jpg, .gif, .png, whatever.

6. Add editorial commentary and hit submit and your image will load. If it doesn't, upload the image to imgur and paste the image URL as a comment. I promise I will look at it.

7. Large-size images may not upload properly, though we have seen some big-ass animated .gifs upwards of 5 MB. If you're still having trouble uploading the image, try to keep its longest dimension (horizontal or vertical) under 1000 pixels, or the whole thing under 2 MB.
To contact the author of this post, write to fahey@kotaku.com or find him on Twitter @bunnyspatial.