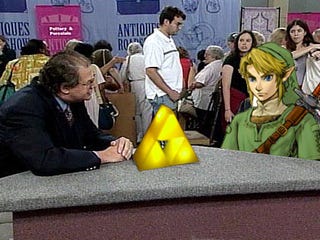 This week's idea, courtesy of Quest, comes two weeks late because we also had two strong ones before it, which produced more than 1,700 entries. Our inspiration is Namco registering a domain name for "Antiques Roadshow: The Game."
Your assignment: Visualize this surefire AAA hit. Either go Quest's route, with a game character schlepping in something for appraisal. Or pull a wildcard and imagine a scene from such an action-packed game.
Source Image: The moment of truth in Antiques Roadshow.
You can also find more Antiques Roadshow images via Google image search. If this one doesn't work for you, you're not restricted to it.
Post your submissions below, and the 20 best will be rounded up in a gallery next week. Have fun!