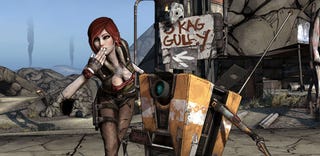 We reviewed the following games this week. Just for you. Not for that guy. Or her. Or them.
Borderlands Review
(In which McWhertor pauses from praising the game to warn how not to play it.)
Critter Crunch Micro-Review
(In which Crecente explains how one mashes Space Invaders with Donkey Kong Jr.)
Bakugan Battle Brawler Review
(In which Crecente continues his efforts to convince us Bakugan is cool)
A Boy and His Blob Review
(In which Fahey admits a blind spot and demands more hugging.)
Mario & Sonic At The Olympic Winter Games Review
(In which our reviewer contemplates violence against a Boo and his TV.)
Ratchet & Clank Future: A Crack In Time Review
(In which I said nice things about almost everything, except Captain Qwark.)
Marvel Super Squad Review
(In which Fahey admitted his age, praised Stan Lee, and told us what he'd do if he had Magneto's powers.)
What games will we review next week? Check back each day to find out. Not that you'll be surprised.