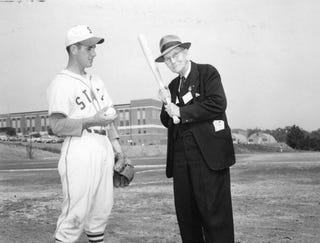 Growing up, we got Easter Monday off from school, not Good Friday. I later found the reason why when I went to college.
It's because, back in the 1930s and 1940s, N.C. State and Wake Forest traditionally played a baseball game the day after Easter. This is back when collegiate baseball had a more mainstream appeal, for so much of the state legislature in Raleigh would take the day off and head down to Devereaux Meadow (later a parking lot for garbage trucks) that the General Assembly eventually created a state holiday for it, if it was going to waste a day of work anyway.
Even after Wake Forest College (later university) moved from its namesake town to Winston-Salem (and so ungratefully didn't rename itself Reynolds U.) and basketball firmly supplanted all other sports as the rivalry decider on Tobacco Road, we still had Easter Monday, as late as 1987. The banks didn't close, but schools, libraries, the DMV, town hall, they all did. I swear I thought it was a religious holiday until I enrolled at State and the inimitable Frank Weedon explained to me the true origin of the day.
I kind of like it that I grew up in a state with a baseball holiday. Speaking of baseball holidays, the first game of the Major Leagues is tonight, New York at Boston in the American League, which is a television contrivance usurping tradition. Cincinnati, as the home of the first professional baseball team, by right begins every season at home, and for my money, Opening Day is always on an afternoon there. The Reds face St. Louis at 1 p.m. tomorrow.
But I've filled up enough space with my off-topic ruminations. Contribute your own in the comment threads below.