Massively multiplayer online gamers have different needs than those of first-person shooter or real-time strategy fans. They need social interaction. They need extremely comfortable chairs. They need all of the Cheetos.
Elden Ring's Top Five Spells, According To FromSoftWare's Stats
But most of all they need buttons. So many buttons.
PC peripheral manufacturers have sensed this need and have responded with specialized MMO mice featuring so many buttons. Today we take a look at three of them — the Logitech G600, the Razer Naga 2012 and the Cyborg M.M.O. 7 from Mad Catz — to determine which is most worthy of your MMOney.
Each of our three contenders were used extensively for at (the very) least a full week by yours truly, with Funcom's The Secret World the primary punishment of choice. With only seven powers active at any one time it's a bit easy on these incredibly programmable devices. Perhaps a World of Warcraft raid healer would be a more tasking test, but alas, I am not raid healer.
Before we begin breaking them down, let's take a look at the basic statistics and acronyms that make an MMO mouse an MMO mouse. I started with the most important. It bears noting that each of these units features a braided cable, but only because I wish everything I owned had a braided cable, even things that don't need cables. I'm a fan.
G/O Media may get a commission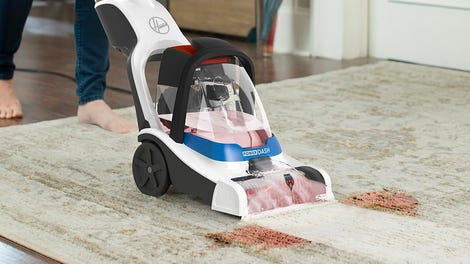 26% Off
Hoover PowerDash Pet Compact Carpet Cleaner
| | | | |
| --- | --- | --- | --- |
| | Razer Naga 2012 | Cyborg M.M.O. 7 | Logitech G600 |
| Buttons | 17 | 15 | 20 |
| Max DPI | 5,600 | 6,400 | 8,200 |
| Polling Rate | 1,000Hz | 1,000Hz | 1,000Hz |
| Tracking Speed | 200 Inches Per Second | 200 Inches Per Second | 160 Inches Per Second |
| MSRP | $79.99 | $129.99 | $79.99 |
Impressive statistics, to be sure, but nothing (other than price) that sets one unit miles above the rest. The Logitech G600 features the highest DPI setting, for instance, but we're playing MMOs with these, not Call of Duty. The only modern popular MMO that even bothers with mouse-based aiming is Tera, and the hit boxes on its bad guys are so large you're probably sitting in one right now and don't even know it.
Adjusted for the realities of the genre, we're starting with a relatively even playing field. Let's fix that, category by category.
Style
There is nothing wrong with looking like a standard gaming mouse with some extra buttons on the side; I do not fault the G600 or the Naga for this. They look fine, even in those pants. They've both got colored LED lighting, a feature dedicated Microsoft Office mice have traditionally shied away from. They look functional, and that's great.
The Cyborg M.M.O. 7 looks like it's about to transform and roll out. It's got shiny metal orange accents, grooved dials, and a quirky logo that looks like Deadshot from DC Comics. And yes, there is colored LED lighting.
Cyborg M.M.O. 7
Comfort
This category is particularly fun, as the manufacturers of two of the three competitors have gone great lengths to ensure that any gamer's hand can rest comfortably atop their devices. Both the Cyborg ad the Naga come with extra bits that gamers can swap out, essentially letting them reconfigure the ergonomic profile on the fly.
The Naga comes with three different side panels so no matter what grip players prefer.
The Cyborg M.M.O. takes the customization a step further, providing two additional palm rests (one rubberized and one raised), two side panels (one rubberized and one with a pinkie rest) and a series of tiny weights for those heft queens out there.
Which one feels the best? Neither. The Naga feels nice enough and is perfectly well-suited for extended play. The Cyborg's futuristic style works against it here; it's just not a very comfortable device. There are pokey bits everywhere.
Meanwhile, the Logitech G600 feels wonderful out of the box, and none of those extra bits made either other mouse any more comfortable. It's the third button on the right keeping three fingers on the same level at all times that makes all the difference.
Winner: Logitech
Software / Programming
Each of the three contenders is fully capable of programming more macros and additional actions that you could ever possibly use in your standard MMO. They can all swap profiles on the fly. The Logitech's third top button acts as a shift key. The Cyborg has a two-position shift key and a three-position MMO mode switch. In short, if you're looking to make any button do any thing, all of these can do those any things.
It all comes down to how easy it is to make them do those many things, and in that department there is a definite winner.
The M.M.O. 7 software is very pretty and incredibly stylish, but a bit too unwieldy for my taste. In trying to be sleek and sexy it's sacrificed usability, a running theme for the unit.
Keeping with the theme of running themes, the Logitech G600 software interface is clean and neat. You've got buttons, you assign things to them. Pretty simple. Maybe a little too simple.
Which brings us to the happy medium.
Not too basic, not too complicated, the Naga uses Razer's Synapse 2.0 software for customization, and it is excellent. From profile creation to macro recording to customizing the LED lighting, everything is right here, easy to find and easy to operate without being so simple I feel insulted.
As an added bonus, if you've got additional Razer peripherals you can easily map mouse buttons to functions on those devices as well. I can use my Naga to set the mouse sensitivity on my Razer Taipan. I will never need to do this, but I find comfort that I can.
Winner: Razer
Ease of Use
And so we come down to the most important category. A mouse can be pretty, programmable, versatile and comfortable, but if you can't press the buttons it's just a fancy arrow moving device.
This is where the Cyborg M.M.O. 7 stumbles. It's got all the bells and high tech whistles, but it's a bitch to get used to using all the special buttons on its surface. There's a four-way switch that's also a button. There's a metal dial. There is a button on the top of the mouse that locks the unit to obscure functions that really screw up the normal day-to-day operation of your computer. A button that, until recently, users were unable to lock.
So that's a no on the Cyborg. This contest comes down to a knock-down, drag-out fight between the Razer Naga and the Logitech G600, two units that feature 12 buttons in four rows of three on the right side. Which unit's buttons are better?
You know I love you, Razer, but Logitech edges you out.
The G600's irregular ridged rubberized buttons are just a little easier to access in the heat of battle than the Naga's smooth, flat ones. Figure in the added stability provided by the third top button, and Logitech wins it by a nose.
Winner: Logitech
And the winner is...
The Cyborg M.M.O. 7 is an incredibly striking mouse whose distinctive shell houses some interesting ideas, but those ideas were implemented without much thought given to comfort or practicality.
The Razer Naga 2012 Edition is a fine piece of MMO mousing hardware. There is nothing overwhelmingly negative I can say about it. If not for the inclusion of the third pointing device, it might have taken home the non-existent Kotaku Hardware Battles trophy.
But then Logitech swooped in and stole it.
I must say I did not expect Logitech to perform as well as it did in this competition. Both Razer and Mad Catz go after gamers ferociously, aiming all of their marketing and design might squarely at the cutting-edge PC gaming crowd. Even the packaging screams "this is gaming gear!"
Logitech just quietly sits down next to the PC gamer, sets an unassuming box on the table and gently pushes it forward. Oh, you like playing MMO games? Maybe you should try this, it's pretty good. You might like it.
And I did.
Winner: Logitech G600