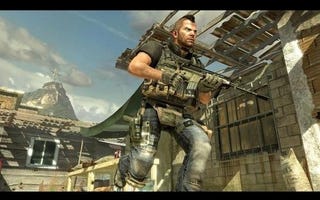 And we are back for the second part of the only gaming "book club" promoted on national cable TV. We are discussing levels 4-6 of Modern Warfare 2 in the comments section.
The levels we are covering are the notorious No Russian terrorism level, the Brazilian Takedown level, and Wolverines, which features an invasion of the United States.
Instead of starting with questions for each level, I want to start with a broader question that felt relevant for all three of these chapters:
How much did you play on-script — doing what you were "supposed to do" in No Russian and the other levels — and what were your experiences going off it?

Ok... GO! (We're doing this for an hour, though you can carry on further without me, of course.)

NOTE - The next Game Club meeting will be on Monday, same time as this one, 2pm Kotaku Time, 4pm ET. We'll be covering levels 7-9.