When reports come out that renowned pachinko manufacturer Konami treats its game developers like prisoners, you won't hear much. But when a website suggests that the new game Metal Gear Solid V has required microtransactions? Konami comes out swinging.
Last night, the website GameSpot reported that a section of Metal Gear Solid V—specifically, the PVP multiplayer—is locked behind a paywall. "Access to [the game's] competitive multiplayer mode, Forward Operating Base, will be restricted behind a microtransaction paywall," GameSpot wrote. "In order to participate in the online multiplayer mode, where players attack each other's bases, they must first use real-world money to purchase MB Coins."
Today, Konami denied that report, going hard at GameSpot in a strong statement they sent over to PC Gamer:
Gamespot posted an article following the review that the PVP (FOB) mode in MGSV TPP will be restricted behind a micro-transaction paywall and that is simply not true. The FOB mode will be fully accessible at launch and the micro-transaction layer to that specific feature in the game primarily acts as an accelerator. We'll have more details at launch, but we did try and clear these rumours up when they started circulating during E3. We even addressed this in our official E3 2015 demo when it went live during that show.
Goddamn. "That is simply not true." Konami going HAM. Now, you might be wondering: who's actually telling the truth? Game publishers tend to lie and mislead people when faced with information that they don't want made public, so it's silly to take Konami's statement at face value, but the game comes out in a week. If Konami is really misleading people, we'll know about it pretty quickly.
I've been playing Metal Gear Solid V—it's goddamn fantastic—but I haven't gotten to the point where I can unlock FOBs, and the online features won't be enabled until the game's officially out on September 1. I haven't seen anything in the game about microtransactions or MB Coins yet. So I can't confirm these details firsthand.
G/O Media may get a commission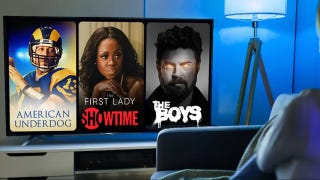 UNDER $1
99¢ Prime Video Channels
GameSpot's Peter Brown has doubled down on his reporting, for what it's worth, tweeting an image that suggests that players have to buy these MB Coins to buy territory and place FOBs. But none of us know how MB Coins are obtained or whether we'll be able to get them through natural in-game progression once the servers go live. We simply don't have all the information yet.
So is this the case of a corporation trying to hide consumer-unfriendly decisions or a video game website jumping to angry conclusions based on incomplete info? We won't know the full deal until next week. Either way, it's all very entertaining.
You can reach the author of this post at jason@kotaku.com or on Twitter at @jasonschreier.