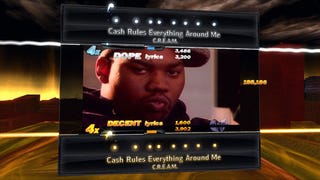 It's been a while since we last heard from 4mm Games, Def Jam Interactive and Terminal Reality's hip hop project Def Jam Rapstar, but there's good news from the camp today. Konami has picked up the title for a fall release.
The PlayStation 3, Xbox 360 and Wii game has a new buddy in rhythm game pioneer Konami, which will co-publish Def Jam Rapstar with Autumn Games in North America and Europe. Jamie King, Chief Creative Officer and co-founder at 4mm Games, tells Kotaku that the developer is "really excited" to align itself with the Guitar Freaks and Beatmania maker.
"Konami has a track record in the music and rhythm game category," King says. "They were forerunners in the space and know what it takes to launch something like Def Jam Rapstar into a global market. For us it made sense to partner with someone who has experience doing this on the publisher side, and that's what we feel Konami brings to the table."
The game, previously planned for a now-passed "winter" release, will ship in the fall. King says that extra time is due to the developers "working really hard on just tightening up the look and feel, locking in the tracklist and building the infrastructure to support the online community we are creating."
Konami and crew revealed more of the game's tracklist today, naming 10 of the 40 promised hip hop and rap tracks that will be included on the disc.
Yes, that includes some Wu-Tang. Our hopes were note in vain.
2 Pac "I Get Around"
50 Cent "I Get Money"
Dr. Dre featuring Snoop Dogg "Nuthin' But a 'G' Thang"
Kanye West featuring Jamie Foxx "Gold Digger"
Lil' Wayne "A Milli"
Notorius B.I.G. "Juicy"
Slick Rick "Children's Story"
T.I. featuring Rihanna "Live Your Life"
Wu Tang Clan "C.R.E.A.M."
Young Jeezy featuring Kanye West "Put On"
Def Jam Rapstar also plans "region specific music for the UK and Europe" with much of the game's focus on letting hip hop hopefuls freestyle on camera, then upload their performances to the Rapstar community, a robust set of social networking features. (4mm Games didn't clarify how video capture would work on the Wii, which doesn't have a first-party video camera accessory.) The traditional social networks, King says, won't be ignored.
"Def Jam Rapstar will allow you to share content across your social networks and mobile devices," he says. "We're doing some pretty exciting stuff in regards to our community interaction and the ability to share, features that we'll be diving into in the months ahead."
One thing that 4mm, Terminal Reality and Def Jam Interactive hasn't nailed down yet is what will happen when the famous Konami Code—up, up, down, down, left, right, left, right, B, A, start—is input into Rapstar.
"You know, we still need to figure out what that will unlock," King says. Surely, someone on the Def Jam label has to have rapped about the heroics of Bill and Lance in their fight against Red Falcon at some point, right?