Do you ever feel like a plastic bag, drifting through the wind, wanting to start again? Do you ever feel like you wish you could just, I don't know, deck out your Sims sim in Katy Perry gear, start a sim-music career, and go on tour?
Well, now you can. EA has announced that the megastar singer has joined forces with The Sims 3 Showtime to bring all manner of Katy Perry-branded things to the game. Perry has been a fan of the series for a long time, putting together a rather charming and hilarious version of her song "Hot & Cold" performed by sims and sung in their made-up "simlish" language.
The collector's edition of the game, given the ridiculous title of The Sims 3 Showtime Katy Perry Collector's Edition, will include "iconic" Katy Perry-themed items (I'm guessing a blue wig?), a poster, and a bonus in-game venue. It doesn't sound as though Katy Perry herself will turn up in the game—the images in the gallery are either taken from the Perry-centric ad campaign or have been made by dressing a Perry-ish sim up in the included outfits. No announcement yet about whether you can give your sim an annoying British ex.
All I know is, if they did a version of "Firework" entirely in Simlish, I wouldn't complain. No seriously! That song is way catchy. What. Don't judge me.
G/O Media may get a commission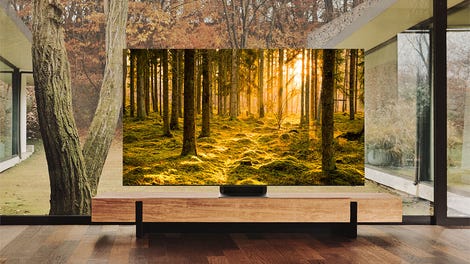 Up to 40% off
Samsung Smart TVs