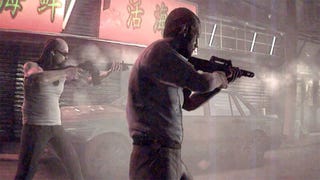 Summer is due for some Shanghai shoot 'em up grit and grime, thanks to those lovable scamps Kane and Lynch. The anti-heroes will make their return in Kane & Lynch 2: Dog Days this August.
The sequel to 2007's coolly received and controversial Kane & Lynch: Dead Men, Dog Days lands, appropriately, during what may be the most sultry days of the season for those of us in the northern hemisphere. That would be August 24 in North America and August 27 in Europe and the PAL territories, when our air conditioners will be wheezing from their extended use. Kane & Lynch 2: Dog Days is releasing on the PC, PlayStation 3 and Xbox 360, just like the last one.
If you're not yet convinced that Kane & Lynch 2 is something you should be interested in, make sure to check out our eyes-on preview of the game—or at least the game's camera, which we called "astoundingly imperfect."
Or, just watch this new Kane & Lynch 2: Dog Days trailer, which is just bursting with action.