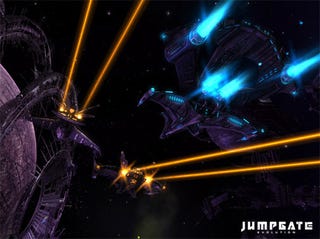 With more than a quarter of a million beta sign ups in North America and Europe, Net Devil's space combat MMO Jumpgate Evolution is the biggest beta campaign
Apparently I am not the only one with a craving for action-packed, massively-multiplayer online space combat. According to Codemasters, more than 250,000 individuals have signed up for a chance to test out NetDevil's baby, with more flocking to the website to register every day. Needless to say, the developer is extremely excited.

"Our players' enthusiasm continues to exceed our expectations at every milestone and we are extremely excited to achieve such fantastic support," said Scott Brown, President of NetDevil. "We have thoroughly enjoyed obtaining some valuable feedback from the people in our Friends & Family test, helping us to take the next major step towards launch."
See? I didn't need to say it.
Of course, more folks signing up means less chance of you getting in, but look on the bright side...okay, I got nothing.