This morning we ran a roundup of clips from Late Night with Jimmy Fallon's big post-E3 "Video Game Week," highlighted by his hands-on time with the Wii U. Fallon's opening monologue, however, is where the entertainment is, really.
Nintendo can't be too pleased that its Late Night close up begins by describing the Wii U as some kind of a hardware extension to the regular old Wii. But that's what Fallon does in setting up the evening's guest list for viewers.
"This is the new system. You add it to your Wii or you don't even need to use the Wii. Do you need to use the Wii?" he rambles. "You can just use it on your own, but you can also use it with the Wii."
Perhaps that explains why Reggie Fils-Aime, the president of Nintendo of America, was so specific in his on-camera segment. "This is the Wii U. Right?" says Fils-Aime. "This entire package, the console and really what makes it different is this new controller." You can almost see him arching his eyebrows at Fallon off-camera.
G/O Media may get a commission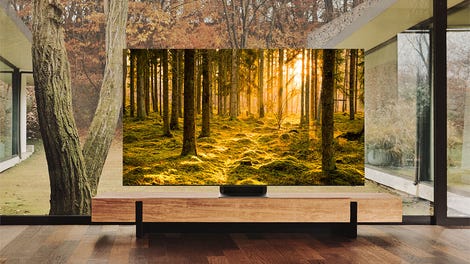 Up to 40% off
Samsung Smart TVs
Nintendo keeps having this problem with the Wii U. Not a week after its unveiling at E3 2011, company president Satoru Iwata already regretted its presentation, which seemed to emphasized the controller to the exclusion of the console, perhaps leading some not to see it as an entirely new system.
But that's the risk you run when you make the controller the face of the system, not the hardware itself, as Shigeru Miyamoto said when explaining why the Wii U won't stand upright. The console's designers didn't include a stand because they wanted to differentiate it from the upright Wii. However, "The Wii U GamePad is really the face of the system," Miyamoto told Stephen Totilo, "whereas, with the Wii system, we had really designed it so that that system itself really stood out when you looked at it."