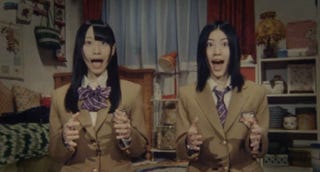 According to the Kinect manual, the controller-free peripheral needs between 6 and 8 feet of space. That's important to know. Here is the manual's exact wording:
The sensor can see you when you play approximately 6 feet (2 meters) from the sensor. For two people, you should play approximately 8 feet (2.5 meters) from the sensor.
The first Japanese television ad for Kinect is a clever spot. It features two idols from music group SKE48 and plays up the "There's no controller?!" angle, which certainly should help the product in The Land of the Rising Sun. The rub is between 6 to 8 feet might be a tight squeeze for many Japanese living rooms. Heck, it's already an impossibility for one Australian one.
Certainly, some Japanese abodes have large living rooms. I have a large living room. But a good chunk of the country does not.
Traditionally, Japanese rooms have been the size of six-tatami mats or even four-and-a-half tatami mats. The size of a six mat tatami room is slightly larger than 8-and-a-half feet by 11-and-a-half-feet. The size of a 4.5 tatami room is also slightly larger than 8-and-a-half feet by 8-and-a-half feet.
This does not factor in things like furniture (entertainment unit, sofa, etc.), which made the room smaller. Of course, many apartments are no longer tatami and some have larger rooms. But this six-tatami-mat size (whether it's tatami, carpet or hardwood) has traditionally been a benchmark for Japanese room size.
Of course, it's not like Kinect will stop working at 5 feet. The sweetspot for the device seems to be six. It is worth noting that Sony's motion controller, the Move, has a recommended sweetspot of 8 feet. According to the developers of PS Move launch game Sports Champion, the Sony motion peripheral works "best" at around 8-feet. However, the Sony peripheral is "definitely tolerant outside of that range".
Earlier this year, there was a report that Kinect needed at least 13-feet; however, these reports were incorrect.
"We know that living rooms come in all shapes and sizes," Microsoft told Kotaku back in March, "and have conducted numerous play tests to ensure everyone will be able to jump off the couch and into the fun."
Kotaku is following up with Microsoft to clarify the distance that Kinect operates best at. This post will be updated if the company comments.