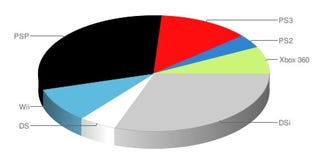 This week's hardware report from Media Create isn't a positive one. Similar to the industry's performance in the U.S., Japanese weekly hardware sales are down across the board—with the exception of the Xbox 360.
That's somewhat curious, as the Xbox 360's rise over the previous week is substantial, enough to put it within spitting distance of weekly Wii sales. But there's not a single Xbox 360 game in the top thirty. Not even in the top fifty bestselling games in Japan.
As it has for the past two months, the PlayStation 3 continues to outsell its current gen competition. We'll know next week whether the release of Final Fantasy VII: Advent Children Complete had any sort of impact. The rundown is after this.
PSP - 40,886
DSi - 40,673
PlayStation 3 - 16,701
Wii - 13,349
Xbox 360 - 10,134
Nintendo DS Lite - 6,869
PlayStation 2 - 4,531