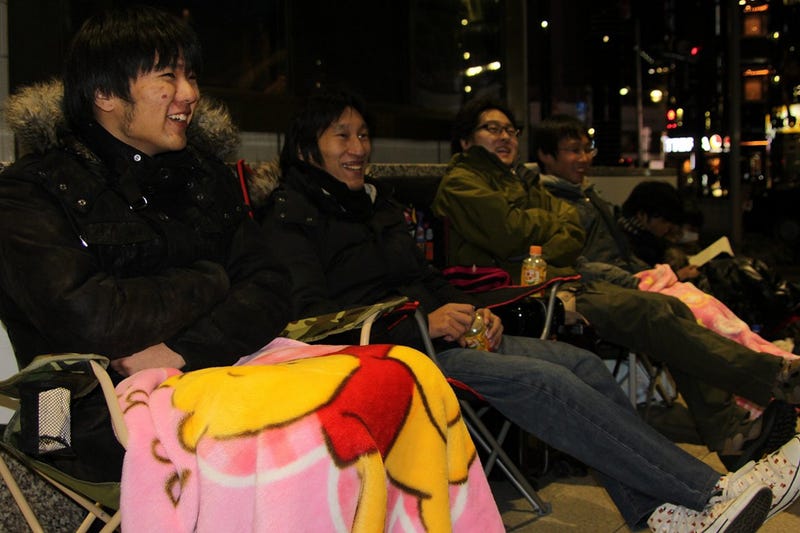 Do you think they'll do the Antonio Banderas move?
The official release date of the PS4 in Japan is February 22nd. However, at the Sony building in Ginza, Tokyo, Sony is offering to sell 100 PS4s a day early on the 21st. Of the 100, 30 will get to participate in the special PlayStation 4 COUNTDOWN event that night and of those thirty, one will be chosen at random to be the first official Japanese buyer of the PlayStation 4.
The announcement of the event went up on the evening of the 17th, and by 11PM on the 19th, 8 people were already camped out in front of the Sony building, eagerly waiting.
Japanese gaming site inside games managed to talk with the first man in line. He and 3 of his friends – the first 4 in line – have brought chairs, blankets, sleeping bags and disposable warmers to weather the cold. The 4 take breaks in shifts and are holding fort until the sale begins.
The PS4 is currently still available for preorder in Japan on Amazon, so it's not necessary to go to such lengths to get one. Still, for a chance to do The Banderas? I might consider it.
PS4、発売3日前から既に銀座ソニービルに行列 [inside games]
Kotaku East is your slice of Asian internet culture, bringing you the latest talking points from Japan, Korea, China and beyond. Tune in every morning from 4am to 8am.
To contact the author of this post, write to cogitoergonihilATgmail.com or find him on Twitter @tnakamura8.