Won't somebody think of the children? You think of the children; Ushijima Ii Niku ("Good Meat") is going to push every envelope she can with her daring cosplay.
Taiwan's TTV visited the FancyFrontier event in Taipei, which is filled with self-published comics. As Kotaku previously posted, the event is crawling with cosplayers. But they're wearing costumes. Good Meat was, too, but it wasn't much of an outfit.
Ushijima showed up dressed as a schoolgirl—minus her skirt. The TTV reporter said, "A young lady who cosplayed as student was originally wearing a dress but suddenly dropped only to her underwear."
The reporter added, "This type of public nudity was available to all to see, the convention is open to people of ages, what happens if a child walks in a sees this?"
G/O Media may get a commission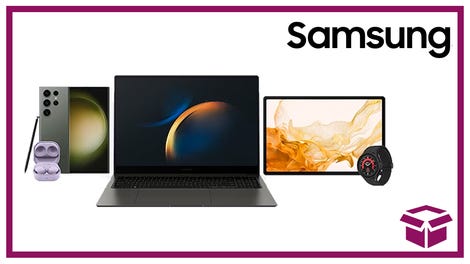 24 hour deals
Discover Samsung - Daily Deal
Ushijima, who's no stranger to wearing highly revealing threads outside, has appeared at this event before. Last time, she wore a revealing outfit, too.
FancyFrontier is held at National Taiwan University, the country's most prestigious university. Ushijima was in the school's gymnasium, so issues of public decency do appear to be very real.
While other cosplayers wore revealing outfits, too, Ushijima's matter-of-fact underpants as well as making the evening news seems to be the controversy's source. The mosaic on the evening news make her outfit look far worse. While she wasn't in a thong, she wasn't exactly covering her bum.
Things got so hot, that Ushijima was apparently banned from the rest of the event; however, she said on Twitter that she plans on returning to Taiwan for these types of shows in the future.
Online in Japan (and in Taiwan), the reaction has varied from understanding of what exactly Ushijima does to embarrassment to just how brazen, and blunt, this whole episode was.
Back in Jan. 2011, Ushijima told Kotaku, "I don't show anything I don't want to show," she says, "and I don't do anything I don't want to do." There are things that Ushijima might want to do and things she might not want to. However, there are also things Taiwanese universities don't want her to do. Showing up in her underpants is probably one of them.
For more of Ushijima Good Meat, check her NSFW tumblr site.