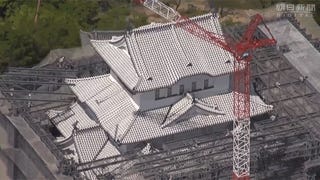 Wow. The newly refurbished roof of Himeji Castle is really, really white. No wonder people in Japan are bewildered. This isn't what people are used to!
Himeji Castle is one of Japan's most famous and most beautiful castles. It is a World Heritage Site, and if you ever visit Japan, you need to visit it.
Since 2010, Himeiji Castle has been under renovation, and it will not be completed until next year.
Recently, the refurbished castle roof has been unveiled, and as Livedoor News reports, many people in Japan are incredibly surprised at how white it is.
Here's why. Himeiji Castle used to look like this:
Himeji Castle has a gray roof, right? Everyone knows that. Even Nanoblocks know that.
[Pics: chika_arimura]
But... Here's the redone roof.
[Pic: naito10745]
[Pic: sho_sakai]
Get out the sunglasses! As LiveDoor points out, the titles and the plaster are undergoing their biggest renovation in the past 45 years.
In that time, the castle's roof became dirty, filled with soot and grime, and this brilliant white is actually a return to how looked when it was first built.
No wonder the castle is also known as the "White Heron Castle," being compared to a white bird in flight.
The scaffolding will be removed in spring 2015. If you are interested in visiting Himeji Castle, Jcastle is a fantastic resource. The castle's official site also has info about the restoration in English, Japanese, Chinese, and Korean. You can read that here.
"白い"姫路城に驚きの声続々、約3年半ぶりに姿現した大天守が話題に。[Livedoor]
To contact the author of this post, write to bashcraftATkotaku.com or find him on Twitter @Brian_Ashcraft.
Kotaku East is your slice of Asian internet culture, bringing you the latest talking points from Japan, Korea, China and beyond. Tune in every morning from 4am to 8am.