Japanese artist Rokudenashiko has a dream. She wants to make a "pussy boat", like an actual boat (well canoe). Oh, she also wants people to chill out about vaginas, too.
Warning: This article has content some readers might find objectionable.
Rokudenashiko creates dioramas with rather unique terrains: plastic molds of her vagina. Originally, the artist thought it would be funny to decorate molds of her genitalia. Not everyone was so amused. Some, according to the artist, got upset.
There's a long, proud history of vagina motifs in art. However, in Japan, the vagina still is somewhat taboo (it's worth noting that Japan isn't alone in this regards). So, it's easy to see why Rokudenashiko's art would raise eyebrows.
G/O Media may get a commission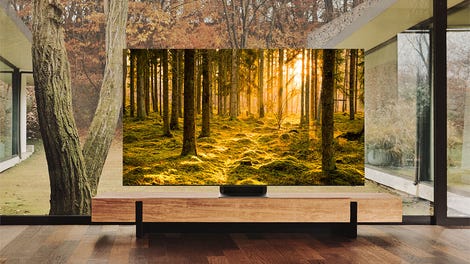 Up to 40% off
Samsung Smart TVs
The art's branding revels in taboo, too. Rokudenashiko, whose pen name means "good-for-nothing kid", calls her dioramas "deko-man". "Deko" is short for decoration. "Man" is short for the Japanese word "manko" (まんこ), which means "pussy". It's one that you should definitely not utter in polite company! In Japanese, "vagina" is often discreetly referred to as "asoko" (あそこ), which literally means "over yonder" but translates to "down there".
"Even when a TV station asked me to be on their show," Rokudenashiko recalls, "they wouldn't dare to let me say "deko-man' because 'man' is from the taboo word manko."
Rokudenashiko explains that her art was inspired about her worries about her own private parts and how the genitalia has unfairly been labeled obscene. "I wanted to make pussy more casual and pop," the artist says. "That's how I came to make a pussy lampshade, a remote-controlled pussy car, a pussy accessory, a pussy smartphone case, and so on." She has even made a couple pussy Gundams and also published a "Deko-Man" comic book (note that here there is also a pun between "man" in "manko" and the Japanese word "manga").
While silicon molds are suitable for Rokudenashiko's dioramas, they don't suit her larger ambitions, like a pussy bed, a pussy door, a pussy car, or even a pussy boat. "I was wondering how I can make it possible, and then I finally found that [a] 3D scanner can make it happen easily," she says. "[A] 3D scanner can be used to make a pussy boat that will go across the ocean!"
Rokudenashiko is crowd-funding her plan to get the necessary tech to make her pussy canoe dreams possible and row her pink vessel across Lake Geneva. Currently, Rokudenashiko has 385,500 yen (US$3,920) out of her 514,800 yen ($5,235) goal. The crowd-funding deadline is September 6, and she plans on writing about the experience on a woman's culture site and as well as cartoons. Those who contribute to her crowd-funding project must live in Japan, but those who contribute can even get some of Rokudenashiko's scanned data. No clue what you'd do with it, but hey, all that matters little in the world of nautical vaginas!
わたしの「まん中」を3Dスキャンして [Campfire]
Photos: ろくでなし子
To contact the author of this post, write to bashcraftATkotaku.com or find him on Twitter @Brian_Ashcraft.
Kotaku East is your slice of Asian internet culture, bringing you the latest talking points from Japan, Korea, China and beyond. Tune in every morning from 4am to 8am.