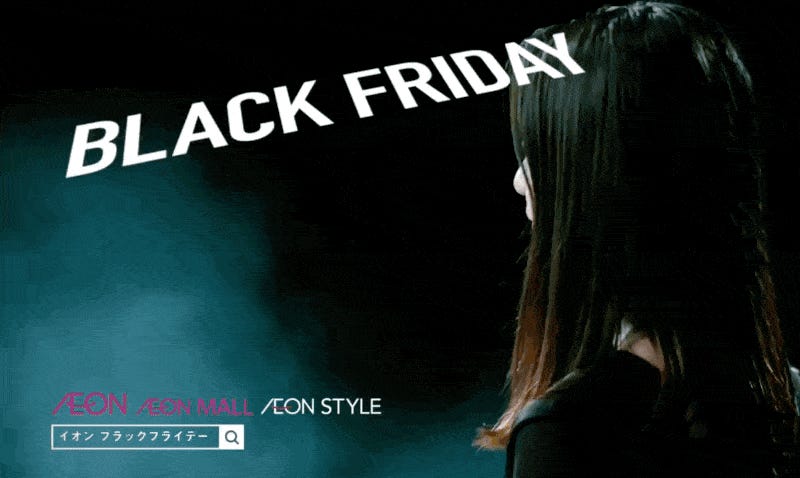 And that reason is money.

Japan doesn't celebrate Thanksgiving, and Christmas stuff starts going up as soon as Halloween finishes, which, I guess, now also happens in the U.S. Also, this isn't the only country to recently latch on the American sales bonanza Black Friday, but in 2016, the day was more noticeable than ever before.

See? People are noticing!
Aeon released an ad that explains that Black Friday "major sales" started in the U.S. The shopping mall chain's Black Friday sales are three days long and stretch into Cyber Monday.
Aeon Mall, Japan largest shopping center chain, kicked off Black Friday sales across the country.
As did other stores, such as Toys "R" Us.
The deals and crowds don't reach the fever pitch that they do in the States. Yet.
Many people in Japan, however, seemed unsure what exactly "Black Friday" meant.
In English, of course, "Black Friday" refers to retail instantly making a profit—being in the black. In Japanese, there is a similar expression, "kuroji" (黒字). Not sure if that helps Black Friday's chances in Japan, but there you go.
Gap kicked off a huge Black Friday event last year, while Toys "R" Us Japan began Black Friday sales back in 2014.
This year's Gap events drew lines, which people hoping to score a limited number of sweaters for 100 yen (less than a dollar).
Japan has bigger sales drawing much longer lines during the New Year's Holidays, which already has an established sales tradition with items like "lucky bags." Retailers, it seems, no doubt hope that Black Friday will give a fall sales bump to their bottom line.
As previously mentioned, there is no Thanksgiving (Halloween, however, is celebrated), so Black Friday obviously doesn't mark the official start of holiday shopping.
Not that such matters much these days.
Kotaku East is your slice of Asian internet culture, bringing you the latest talking points from Japan, Korea, China and beyond. Tune in every morning from 4am to 8am.