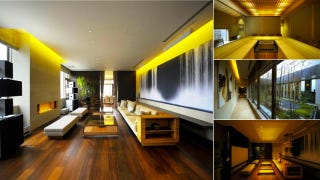 Kotaku East
East is your slice of Asian internet culture, bringing you the latest talking points from Japan, Korea, China and beyond. Tune in every morning from 4am to 8am.
Japan is expensive. The yen is strong, food is overpriced, and, unless you know how to spend smart, you can blow through insane amounts of cash. And if Japan is expensive, then Tokyo is crazy expensive.

Take the Tokyo neighborhood of Minami-Azabu, which boasts what's apparently the most expensive one bedroom apartment (Jeremy Clarkson voice) in the world. The 412 sq m (4,434 sq ft) apartment has two kitchens, three bathrooms, a living room covered in wooden panels, a shoe closet for 200 shoes, and a beautiful terrace. Built in 2004, it's still a one bedroom apartment—and one priced at US$21.8 million.
Not every apartment in Tokyo is nearly this swish. But if you have lots of cash you want to part with quickly, this town—and this pad—is for you. (Ditto for those with no money, who want to live in a dump and eat 50 cent packages of beans!)
The Most Expensive One-Bedroom Apartment in the World (26 pics) [Izismile via 秒間SUNDAY]