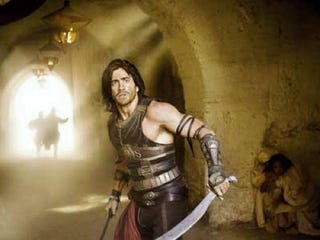 We've send loads of shirtless Jake Gyllenhaal Prince of Persia movie pics. We're totally numb to chesty Jake!
Here's something new: a photo of Prince Jake wearing a top. This is the first official picture of him in character.
"I'm tired of taking myself so seriously," says Gyllenhaal. (So are we.) According to EW.com, the thespian did things like sword-fighting, climbing walls, and jumping off of buildings for the flick. "It's nice when a stuntman turns to you and is like, 'Actors don't normally do this.'"
'Prince of Persia': Exclusive first look at star Jake Gyllenhaal! [EW.com]