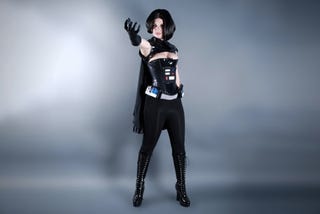 Currently, I'm not in the market for a corset. Perhaps one day, I will be. Right now? No siree. That doesn't mean you aren't though!
Custom corset maker Evening Arwen has this "Galactic Lord Corset" and this "Galactic Trooper Corset". (The "Galactic" moniker is code for please-don't-sue-us-George-Lucas!) They ain't cheap! The Galactic Lord bit is priced US$600 and the Trooper outfit is $500. And that doesn't include things like leggings and blasters.
It takes up to six weeks to complete the corsets. And corset itself is designed to take in the wearer's waist anywhere between 4 to 5 inches. You know how Darth Vader takes in his stomach 4 to 5 inches?
By pinching his fingers together. No, really!
Update: Kotaku has been informed by the corset maker that these are personal projects and are not for sale.
Megalomania just got sexier with this Galactic Lord Corset Costume! [Evening Arwen via Buzzfeed via io9]