I have horrible news. Everyone at Kotaku is presumably either celebrating Labor Day or died in a tragic fight over who would review Frog Fractions 2, which means that I'm in charge. I've been sitting at my computer trying to come up with a great way to explain who I am to those who might not know me and reassure those who do. I'm Doc Burford.

The Week In Games: Fishing For Mysteries And Gang Wars
That was easy.
Most of you know me from one of two places: Kotaku's comment sections for the past… wait, it's been NINE YEARS? Heck, man. I'm a veteran. I've seen things you people wouldn't believe. I've said them too, things like "I think Half-Life 2 is a terrible video game," which people still refuse to believe. I've grown up here, for good or ill. Kotaku was the first place I visited when I returned, exhausted and drained, from my regular hospital visits. It's been a place of comfort, a place where I forged new friendships, a place where I taught myself to write again after an illness had me convinced I'd never write again. Kotaku means a lot to me.
The rest of you probably know me from my column here on Kotaku for the past few years. I wrote things like "Most Survival Games Have Problems that S.T.A.L.K.E.R. Solved Years Ago" and "I Keep Going Back to the First Forza Horizon." Most of what I write is "how games work" type stuff. I've always wanted to write other things, but I have the most fun exploring how games work, so I keep doing that instead. Always have, always will. It's why, eventually, I'm gonna actually release one on Steam.
For this weekend, I'll be your editor, which means I get to do what I've always wanted to do, which is to turn Kotaku into a Digimon/S.T.A.L.K.E.R. fansite until such time as I get bored or someone wrests the reigns from me. I actually started to write an epic poem about it, but then I realized that they're not paying me anywhere near enough money to write an epic poem.
G/O Media may get a commission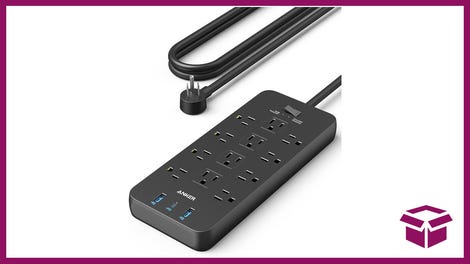 28% Off
Anker Power Strip Surge Protector
So instead I'm just gonna write some stuff that sounds cool, report the news, and maybe, just maybe, tell you why I'm not such a big fan of Half-Life 2. Let's keep things nice and chill.
Completely unrelated, but I feel the need to share some obscure fact about myself: I once almost murdered a bald eagle. It was back when I was earning my pilot's license, back when I could still fly. It was my first solo flight without the instructor present, and I took off and almost hit one right on takeoff. Bald eagles look better from above than they do from below. The more you know.
I think it's time we blow this scene. Get everybody and the stuff together. Okay, three, two, one let's jam...