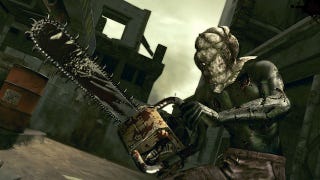 Today, Metro has dug up an older post from the horror site Rely on Horror in which Capcom's Masachika Kawata mentioned work on a new game in the series, theoretically Resident Evil 6. His statement was taken with a grain of salt, as well it should've been—it was posted in Spanish and translated into the following:
" The series will see a complete renovation with the next entry on every level. But we can't forget about all the previous entries that have led to the creation of many possibilities for the franchise. I can't say if we're going to make it (Resident Evil 6) survival horror or a shooter, but I can say that it'll be totally different."
Today on Twitter, Milla Jovovich, longtime star of the Resident Evil feature films, posted this to Twitter:
Between the two mentions, it's certainly not enough to draw any solid conclusions, but it does seem as though Capcom is indeed working on a new Resident Evil game. Yes, the news that a big game company is working on a sequel to one of their most well-known franchises isn't exactly groundbreaking. But I for one am interested to see if they actually shake up the formula this time. I don't know about you, but when I read "complete renovation," I see "Moving while shooting."
A guy can dream…
Resident Evil 6 Will be "Totally Different" [Rely on Horror via Metro]
---
You can contact Kirk Hamilton, the author of this post, at kirk@kotaku.com. You can also find him on Twitter, Facebook, and lurking around our #tips page.