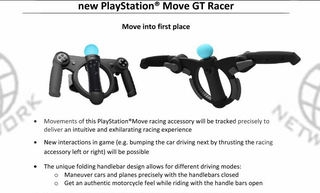 No, you are not looking at a wine opener. This is apparently the new PlayStation Move GT Racer. And it looks silly.
According to website DLB-Network, Sony is working on a Wii Wheel style peripheral for the PlayStation Move and aiming to be bundled and sold separately like the PS Move SharpShooter Peripheral.
Imagines posted by DLB-Network state that Move GT Racer will allow for "new interactions in game", such as bumping cars by thrusting the peripheral right or left, and has "enhanced vibration feedback". It can also open a bottle of Merlot. Okay, I made that last part up.
The GT Racer apparently has new buttons, like "paddle shifters" for manual driving controls. It can also be opened out spread eagle for motorcycle controls.
As seen as this looks, a Wii Wheel with paddle shifters sounds grand. Though, the unfolded motorcycle controls just seem exhausting to hold. I'll reserve judgement to if and when I try the final product—if this is real!
The PlayStation Move GT Racer hasn't been officially announced by Sony, and these scans haven't been verified. However, Kotaku is contacting Sony and will update this post should the company comment.
DLB-Network Insider: PlayStation Move GT Racer [DLB-Network via doope via はちま]
---
You can contact Brian Ashcraft, the author of this post, at bashcraft@kotaku.com. You can also find him on Twitter, Facebook, and lurking around our #tips page.